Alex Albon will line up inside the top 10 thanks to a combination of great strategy and stellar driving in changeable conditions.
Our No23 topped Q2 after holding back initially in the second phase of qualifying before rolling out of the garage on slick tyres, the first driver to do so on a drying track.
As a result, he got them into a perfect window to set what was the fastest time throughout the whole of qualifying, pushing him through to Q3.
The rain returned in Q3 and Alex was unable to get a clean lap in before a red flag was called when Oscar Piastri hit the wall, meaning our man ended the day in a provisional P10.
Across the other side of our garage, Logan Sargeant was unfortunately knocked out in Q1 and will provisionally start from P19.
Several drivers have been summoned to the stewards post-qualifying, with the potential for grid penalties to be applied which might help our duo up the order.
Save 50% on our Canada range
"I'm happy," Alex shared post-qualifying. "Firstly, we had good pace. In Q1 we were P6 and feeling good.
"In Q2, we didn't need to take the risk with the slick tyres, but we made the call. I was actually quite surprised when I saw everyone roll out on Inters!
"But it was great to get through and to top the times. Q3 was a tricky one because it suddenly got much wetter and it became much harder to get the tyres in the window.
"I struggled a bit with that as it felt like the tyres were cooling down quite a lot on the straights when the rain picked up.
"I made a mistake when I lost tyre temperature going into the last corner, which I'm disappointed about and that was it really.
"Mixed emotions but looking at the weekend so far it's a great qualifying result and shows as a team that we are getting there."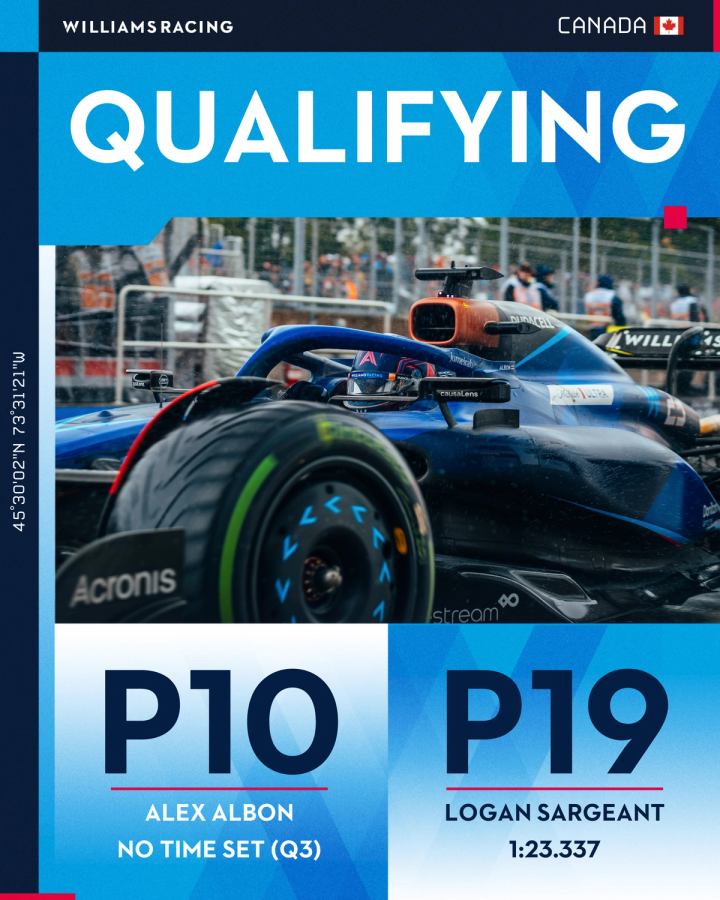 Our provisional Canadian GP Qualifying result.
Logan was disappointed with his result in qualifying, sharing: "FP3 felt really good with the car in a decent place in full wet conditions.
"As the track was drying in Qualifying, I felt like the rears never came to me in that second set in particular.
"The last lap I did felt semi-decent but was nowhere near quick enough.
"It felt like I never got the tyre in the right window with lots of overheating and the grip never came. We'll see what happens tomorrow.
"We don't know what the weather's going to be like, but we'll do our best to go forward."
Final Round
Voting has ended
After watching on from the pit wall, Dave Robson concluded our reaction by offering a thorough overview of the day's action.
"Today was a challenge due to the variable weather conditions," our Head of Vehicle Performance commented.
"However, in FP3 we were able to have a first look at the new full wet tyre, which is run without blankets. This worked quite well, and we collected some useful data.
"Qualifying was dominated by the varying rain level, but we mostly dealt with it well. The car was performing quite well in all conditions, but it is still difficult to put a lap together and to successfully manage the traffic and the tyre temperatures.
"Logan had good pace and in only his second day in an F1 car in the wet, he looked strong but ultimately struggled to get a full lap in with the tyres in a good window.
"Alex – helped by the upgraded car – was comfortable throughout and did exceptionally well to set a lap in Q2 on the slicks before the rain returned.
"Unfortunately, he lost time at the final chicane on his only lap before the heavy rain fell.
"Without this, he may have been close to both McLaren's, but to make real progress in Q3 we needed to be able to complete a 2nd push lap, which we were unable to do.
"It is frustrating to have completed Q2 so successfully and then fallen a bit short in Q3.
"However, with a new car, and in tricky conditions, we have put ourselves in a good position to race tomorrow."
The prediction window for this Grand Prix has now closed.