For motorsport fans the world over, the final weekend of May is always hugely anticipated.
Not only are we treated to the glitz and glamour of the Monaco Grand Prix, across the other side of the Atlantic they're gearing up for the self-proclaimed Greatest Spectacle in Racing.
The Indianapolis 500 is set for its 107th running this weekend and is the oldest event to make up motorsport's fabled Triple Crown.
Just one driver has won each of the Indy 500, 24 Hours of Le Mans and the Monaco GP, that being Mr Monaco himself, Graham Hill.
Seven drivers throughout Williams Racing's history have also competed in the 500-mile race around the historic brickyard – discover who they are below.
Mario Andretti
Indy 500 starts:
29 (1965-1978; 1980-1994)
Best Start:
1st (1966, 1967, 1987)
Best Finish:
1st (1969)
Milk preference:
Buttermilk
Formula 1's only American World Champion, so far, Mario Andretti raced just once for Williams Racing.
Following the sudden retirement of Carlos Reutemann just days before the 1982 US Grand Prix West, Frank Williams brought in the Italian-born American for the race in Long Beach.
He qualified P14 but retired midway through the race following a collision whilst running in the same position he had started in the FW07C.
The one-time Indy 500 winner continued to enter the showpiece event whilst competing full-time in Formula 1, including during his 1978 championship-winning season.
Join the team
Sign up to unlock your very own Driver Card and be one of the first to know about all the latest Williams Racing news and announcements.
Derek Daly
Indy 500 starts:
6 (1983-1985, 1987-1989)
Best Start:
9th (1988)
Best Finish:
12th (1985)
The Irishman raced 12 times for the team during the 1982 campaign, recording a best result of P5 on three separate occasions.
This spell concluded five seasons of on-and-off drives in F1 before Daly set his eyes on the States.
He would start 66 CART races, including each Indianapolis 500 from 1983 to 1989, except for 1986. His son, Conor, currently competes full-time in IndyCar and lines up on the sixth row at this Sunday's 500.
Nelson Piquet
Indy 500 starts:
1 (1993)
Started:
13th
Finished:
32nd (DNF)
The three-time World Champion, one of which came with Williams Racing in 1987, was in the closing stages of his career when he decided to give the Indianapolis 500 a go in 1992.
Joining Team Menard for a one-off appearance, he suffered almost career-ending injuries in practice, forcing him to withdraw that season.
The Brazilian came back the following year, qualifying in 13th but retired after an engine failure just 38 laps into what would be his only appearance at the 500.
Nigel's immense popularity didn't diminish when he went to the USA
Nigel Mansell
Indy 500 starts:
2 (1993-1994)
Best Start:
7th (1994)
Best Finish:
3rd (1993)
It's safe to say Mansell Mania went transatlantic when Our Nige, the 1992 Formula 1 World Champion, went stateside the very next season.
He won five times that year on his way to becoming the '93 IndyCar World Series champion, but this success was never replicated at the Brickyard.
In his two 500 appearances, he fell just short. An error during a restart in the closing stages allowed both Emerson Fittipaldi and Arie Luyendyk to pass, meaning Nigel came home P3.
Dennis Vitolo infamously caused a multi-car collision whilst the race was under caution in '94, eliminating Mansell from his final Indianapolis 500. He returned to Williams later that year.
Jacques Villeneuve
Indy 500 starts:
3 (1994-1995; 2014)
Best Start:
4th (1994)
Best Finish:
1 (1995)
Jacques Villeneuve was already an IndyCar champion and Indy 500 winner before his Formula 1 journey had even begun. The Canadian burst onto the scene in 1994 as rookie of the year after finishing second at that year's 500.
JV went one better the following season, winning the 1995 race as well as the IndyCar championship.
Jacques then departed America for a Williams Racing seat in 1996 and is our most recent World Champion following his 1997 triumph.
Juan Pablo Montoya
Indy 500 starts:
7 (2000; 2014-2017; 2021-2022)
Best Start:
2nd (2000)
Best Finish:
1st (2000, 2015)
Milk preference:
No preference
Like Villeneuve before him, Juan Pablo Montoya made a name for himself stateside before he arrived full-time in F1, though he did have two seasons with Williams Racing as a test driver in '97 and '98.
The Colombian won the 1999 championship, and his Indy 500 effort the following season was one of complete domination, leading 167 laps on his way to victory.
2001 saw him take on the Williams Racing seat, winning four races with the team during his four seasons, including the 2003 Monaco GP.
This means he is one of just two active drivers to have won two of the three events that make up the Triple Crown, missing only the 24 Hours of Le Mans.
On his most recent Indy 500 appearance, Juan Pablo opted for 'no preference' when it came to his choice of winner's milk should he cross the line first.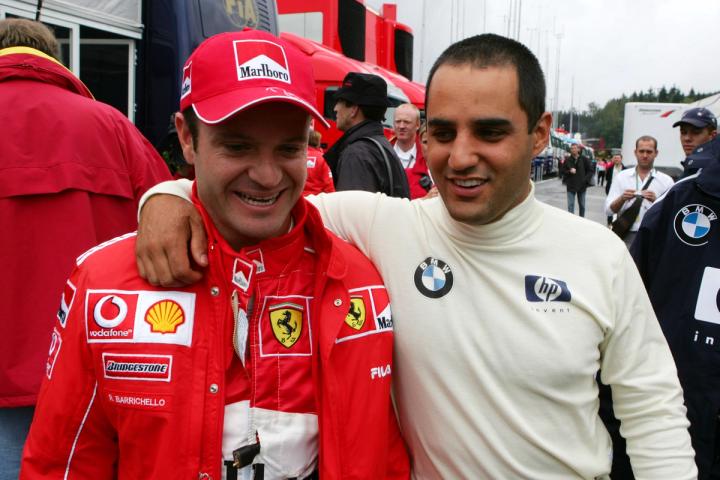 Rubens (L) is embraced by Juan Pablo in 2004
Rubens Barrichello
Indy 500 starts:
1 (2012)
Started:
10th
Finished:
11th
When Rubens Barrichello's long F1 career came to an end after two seasons with Williams Racing, the popular Brazilian racer turned to long-time friend Tony Kanaan.
The two became teammates at KV Racing Technology and Barrichello competed in every round of the 2012 IndyCar season, including that year's 500.
The 19-time grand prix winner lined up P10 and finished P11 in what was a quiet but impressive first race around the brickyard.
He would leave IndyCar at the end of the season to race stock cars in his home country, something he is still doing to this day.
Agustín Canapino
Indy 500 starts:
0 (Racing this weekend)
Starting:
26th
Finished:
TBC
Milk preference:
Whole
Although not a Williams Racing F1 driver, Agustín also competes for Williams Esports as one of the best iRacing drivers in the world.
The 33-year-old Argentine is a top example of sim racing crossover to the real life sport and this weekend he'll line up for his first ever taste of the Indianapolis 500.
He'll start from 26th on Sunday inside his #78 Juncos Hollinger Racing machine, decked out in a livery inspired by Argentina's recent FIFA World Cup triumph.
We're currently giving away an Esports jersey signed by Agustin, make sure you are in the draw by entering below.