As the eyes of the sporting world were on Zandvoort at the weekend, we were delighted to welcome two Dutch stars into the team to join us for what proved to be an enthralling weekend.
One was a returning face to the Williams Racing garage, whilst the other was a newbie to F1 paddock – but both are united by their love of motorsport's pinnacle.
Joel Beukers
Joel alongside his partner Dionne
He was hugely excited to take his first steps inside a Formula 1 garage with us over the weekend, getting up close and personal with our intricate FW45s and the team that put them together each week.
Sharing the experience with his partner and fellow fitness guru, Dionne Snel, Joel took a particular interest in how our drivers prepare for each grand prix as he begins a journey into racing.
The former rugby player has appeared on the cover of multiple sports and fitness magazines over the years, so standing in front of our garage whilst rocking a stash of some of the hottest Williams merch around was light work for him and Dionne.
Puck Moonen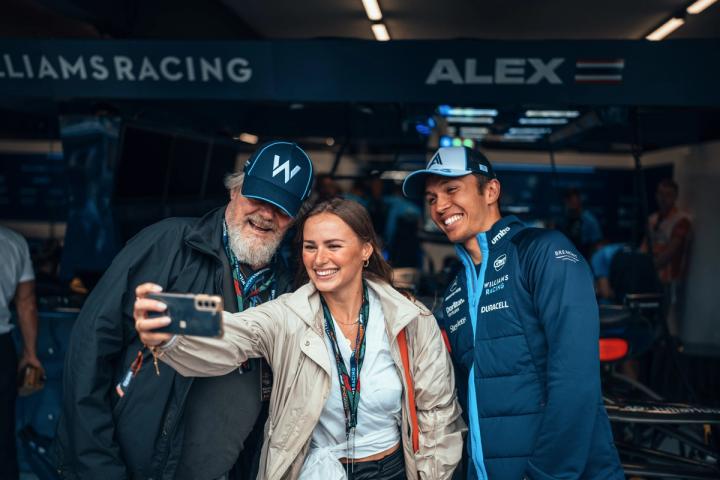 Puck shares a selfie with her dad and Alex
Puck is no stranger to the Williams Racing garage! She joined us in Zandvoort last season, taking Jamie Chadwick for a ride around the undulating circuit.
On Sunday she returned to the team, catching up with some familiar faces in the garageThe former professional cyclist's passion for racing on two wheels fuelled her appreciation of motorsport and she is a massive F1 fan.
This year, she was even able to bring her dad along to share the unique mixture of strategy, safety cars and stroopwafels that Zandvoort provided.
"Beaut of a day with my favourite team and a lot of really awesome people doing all kinds of very cool things,"
she shared on Instagram
.
"Lots of stroopwafels consumed, and dad had the best day ever. Thanks once again and see you all again soon."
WATCH: It was great to have Puck with us once again in Zandvoort.
Make it yours
Customise your very-own Driver Card! Pick your own helmet and number to display your Williams Racing fandom to the world!