The grid for Sunday's Austrian Grand Prix has been set and Alex Albon once again took his FW45 into Q3, securing a P10 start for the race.
With such a short lap at the Red Bull Ring, the field spread between all 20 drivers is incredibly tight – just 0.9s separated the entire pack in Q1.
Logan Sargeant gained his first experience behind the wheel of the upgraded FW45 this afternoon but with just one practice session under his belt.
The American racer showed good improvement throughout the day but missed out on progressing by just under two-tenths, qualifying P18.
Alex comfortably made it through the first stage and looked set to just miss out on reaching the top 10 shootout when he found himself in P12.
However, lap deletions for several drivers following track limit violations saw the Thai driver squeeze through in P10.
Alex himself would suffer a lap time being deleted in Q3, but it wouldn't have affected his afternoon too much as he secured P10 on the grid.
"I'm feeling comfortable about the result we delivered today in Qualifying, as despite the track limits, we would've finished P10 regardless," Alex explained.
"We got through to Q3 because of a few other drivers suffering from track limits, so P10 was definitely the best we could do.
"The upgrades are working but I think we had a bit more raw pace in Canada than we do here.
"We have some quick cars in front and behind us on Sunday, so let's see how we go."
Make it yours
Customise your very-own Driver Card! Pick your own helmet and number to display your Williams Racing fandom to the world!
Logan was in a reflective mood when we caught up with him in the paddock, saying: "I've got mixed feelings after that session.
"I'm genuinely pretty happy with my lap. I was missing a bit this morning in Free Practice and knew I had a good bit to find but I felt like it was coming.
"I found most of it through Sectors 1 and 2. I struggled a little bit to judge the last two corners with track limits.
"Obviously not wanting to lose my lap, I maybe left a little bit too much on the table.
"Tomorrow is another good day to keep learning. It looks wet so some more time in those conditions would be good for me and a nice change. The grid is brutally close, and I just need to be that bit better."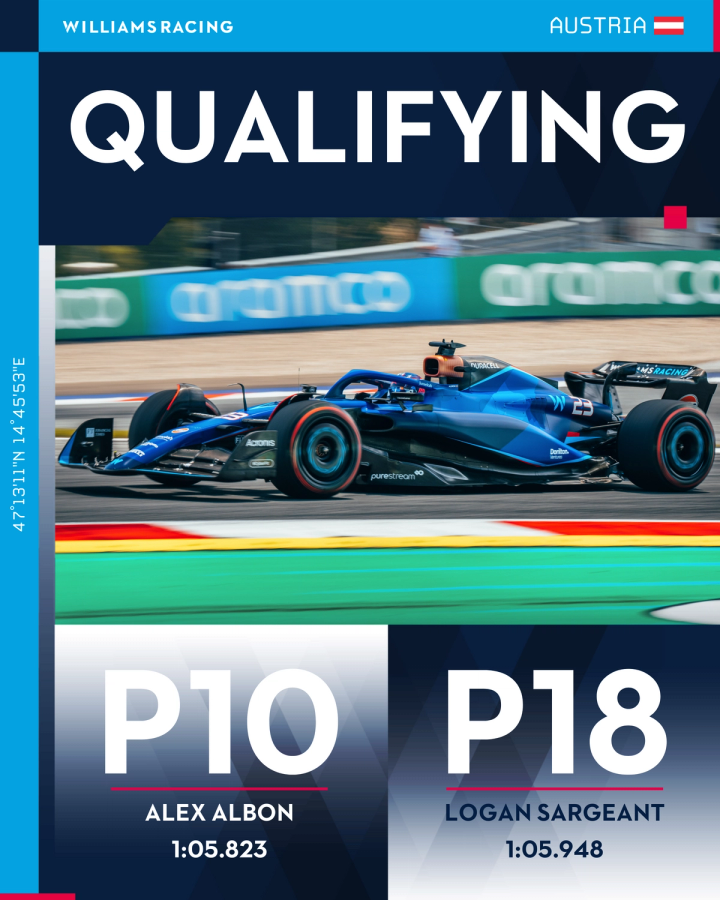 Sunday's grid is set, but there's Sprint Saturday beforehand...
Dave Robson, Head of Vehicle Performance, concluded our reaction by commenting: "Qualifying at the Red Bull Ring is always tricky due to the track being short and fast and the drivers pushing the track limits very hard.
"We weren't perfect but when it counted, we did a good job, kept the laps clean, and got a decent grid position as a result.
"Logan was unfortunate that he couldn't quite find the time he needed to escape a very tight Q1 session.
"His improvement over FP1 was extremely good and it would've been good for him to have another couple of goes in Q2.
"Alex was very good today, kept it clean when he needed to and then pushed things to the limit in Q3 when he had little to lose.
"It's a shame he got his final lap time deleted, but it was only good enough for P10 today anyway. Nonetheless, he has put himself in a good position for the Grand Prix on Sunday.
"The midfield is incredibly tight with multiple drivers capable of setting the same lap time. We will repeat the qualifying again tomorrow, albeit in a slightly different format.
"Like the other teams, we will be looking to see how we can do things better despite the cars being in Parc Ferme.
"Additionally, the weather may play a part tomorrow, which might be the opportunity we need to have a good result in a Saturday Sprint."
The prediction window for this Grand Prix has now closed.