After a strong performance on Saturday, the team were unable to convert their good qualifying position into points at the 2022 Canadian Grand Prix.
Alex Albon crossed the line in P13 with Nicholas Latifi finishing his maiden home race in P16.
After a memorable build-up, it was straight down to business at lights out, with both drivers making a clean getaway, but Nicky would fall to P20 as Charles Leclerc and Yuki Tsunoda made early moves.
The Haas of Kevin Magnussen ahead was shown a black and orange flag on Lap 8, forcing the Danish driver to pit, lifting our duo one place up the order.
Just one lap later the Virtual Safety Car was deployed when Sergio Perez was forced to retire with mechanical issues, placing Alex inside the top 10, whilst Nicky switched onto the hard compound.
When we returned to green conditions at the Circuit Gilles Villeneuve, Alex immediately found himself battling to keep Valtteri Bottas and Leclerc behind, which he managed for seven laps before the pair eventually got the jump.
Alex was in the pits for his first change on Lap 19, but just one lap later the VSC was deployed once again, this time for Mick Schumacher's stricken Haas.
The order remained largely unchanged for the following 30 laps, with AA23 keeping Lando Norris at bay while Nicky visited the box for a second set of hard tyres.
With 20 laps to go, Tsunoda hit the wall whilst leaving the pits, triggering a full Safety Car and handing Alex a cheap second stop, bringing him right back into play as a couple of cars ahead remained on ageing rubber.
The chase was on after the Lap 55 restart and it wasn't long before Alex was making moves – two in one lap to be precise.
His first victim on Lap 57 was Pierre Gasly at T2, before getting past Magnussen and climbing to P13.
The Haas driver would also fall victim to Nicky just a few tours around the Île Notre-Dame later as our resident Canadian reached P16, where he would remain until the Chequered Flag.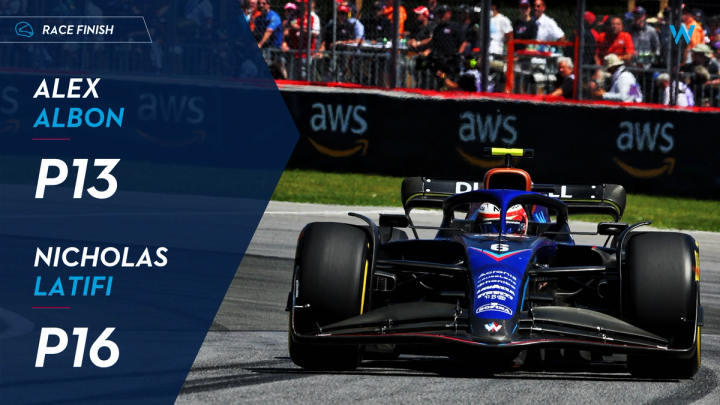 "The overall experience of the weekend has been pretty special," our No6 explained as the dust settled on the weekend, continuing: "It's great to finally have my first home race and the support I felt from my family, friends and all the fans in the grandstands was amazing.
"In terms of on track, we were lacking a lot of pace and we need to try to understand why in both high and low fuel.
"We have two weeks now to try and do a bit of analysis before heading to Silverstone. Regardless of the result, this weekend has been one to remember."
His teammate Albono was taking the positives after what he always knew was going to be a tough weekend, saying: "Going into this weekend, we knew this track was going to be difficult and despite our good qualifying, in the first 3-4 laps I could tell it was going to be a struggle.
"I think P13 was all we could have achieved today so at face value; I am quite happy with it.
"Going into the next stint of races, hopefully, we can make these upgrades and continue to improve on this."
Dave Robson, our Head of Vehicle Performance, reflected Alex's comments as his attentions turn to a busy July before the summer shutdown.
"It was always going to be difficult to hang on to what we earned yesterday, and we didn't have the pace to hold off the quicker cars that started behind us.
"However, we did have a good race with Gasly and Norris and we were close to Vettel and Ricciardo at the end too.
"Like last weekend, the timing of the virtual safety car was not good for Alex, but he kept his head down and made the best of it.
"Similar to Alex, Nicholas struggled to find pace during the race despite his best efforts.
"As a team, it was great to be a part of Nicholas' first home race and experience the support from the fans.
"We needed a little more basic car pace to be able to really race for points and everyone in Grove is working very hard to deliver that to the track as soon as possible."
Find out your results
See how you fared against other fans in the latest round of Pit Wall Predictions, presented by Gulf.