The Baku City Circuit didn't provide the chaos that we've come to expect at the Azerbaijan Grand Prix, but the Williams Racing team leave the Caspian Sea coastline with plenty of encouragement.
Strategic calls from the pit wall and a faultless drive in the cockpit helped Alex Albon reach P12 by the chequered flag while Nicholas Latifi did his best to recover from an early penalty that took him out of contention at the start of the race, finally finishing P15.
There were scenes of celebration, too, as Logan Sargeant took his first Formula 2 Feature Race podium following a terrific performance that had our Driver Academy racer rise from P7 to P2.
Our American driver adds his Baku trophy to the P3 silverware he won in the Barcelona Sprint Race and now sits P4 in the championship standings – the top rookie in the Formula 2 field.
Speaking after the race, Logan said that concentration was the key to his success: "Honestly, I just focused on doing the best I could. I feel like I executed the best race I possibly could – a good start, good first lap, good restarts.
"I didn't quite have the pace for the front two," he continued, referring to Jüri Vips who crashed out and eventual race winner Dennis Hauger, "but we'll take it and head to the next one."
"We've had really good pace this whole year. We've given away a couple of Feature Race podiums in the first few rounds so it feels good to get one back."
In F1, a tale of two virtual safety cars helped and hindered Albono as our No23 pitted in the first full-course yellow to put him in a prime position for a potential top ten finish, but the second slow down allowed rivals ahead to stay in front when they made their stops.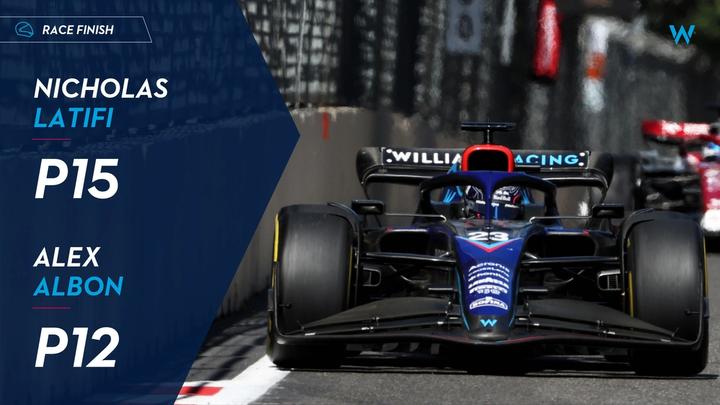 Even though Alex didn't quite reach the points, he was in good spirits post-race, saying: "It was a fun race here in Baku! We just got a bit unlucky with the VSC timing, otherwise we would have been in a better place to fight for points today, but again our race pace was actually really strong.
"If you look at our pace relative to the midfield it was very strong; we were as quick if not quicker than a lot of cars in front of us.
"We had a good start, optimised what we had, and it was a well-executed race for us."
Williams Racing x Canada
Celebrate the Canadian Grand Prix in style with our new limited edition range.
A 10-second stop-go penalty that wasn't Nicky's fault turned his race upside down and he needed a safety car or red flag that never came to have any chance of fighting back into contention.
The Canadian felt hard done by when he shared his thoughts: "It's unfortunate that the penalty undid everything before it even started. I feel like there should be some leniency applied for what the infringement was as I was just pushed back, and nothing was changed to the car.
"It was tricky being so far off from the pack then the cycle of blue flags and getting caught by the leaders very early on.
"The race ended up being a very long and lonely one. We managed to get more mileage and laps with the car, but overall a challenging weekend on this track."
Even though Nicky's Azerbaijan GP didn't go to plan, he understandably can't wait for next week: "A day to forget but excited to be heading straight to Canada for my first home race."
Dave Robson, Head of Vehicle Performance, could see the strengths in the FW44's Sunday setup: "Alex raced very well and the pace of the FW44 in race trim was good today.
"The timing of the VSC which allowed Bottas to stay ahead was frustrating, but that is racing; at least we forced the situation by stopping Alex for a second time and played an aggressive hand in pursuit of a better result."
Alex stopped on track once he crossed the finish line which Dave shed some light on: "At the end of the race, we stopped the car immediately as we could see something on the data that we were not comfortable with."
He also had sympathy for the sister car, by saying: "Nicholas had a tough day, with an immediate penalty for a minor breach of the regulations on the grid.
"The penalty is mandated by the regulations and we were at fault, albeit only momentarily so we need to review our process and ensure that it doesn't happen in the future.
"From there, Nicholas was always going to have a tough race, but he successfully completed a 1-stop race, which was not easy in today's hot conditions.
"We will take the learning from this weekend on to Canada. We are looking forward to returning to Montreal and competing on another exciting circuit using the softest of the Pirelli compounds."
Roy Nissany couldn't score points this weekend with a DNF in Formula 2 on Sunday after his P10 finish in Saturday's Sprint Race but will try again at Silverstone for Round 7.
Elsewhere, Ollie Gray went from P6 to P4 to just miss out on the podium in Sunday's first British Formula 4 race at Oulton Park and will be back on track again this evening for Race 3.
Find out your results
See how you fared against other fans in the latest round of Pit Wall Predictions, presented by Gulf.