Alex Albon will start the first-ever Miami Grand Prix in P18, with Nicholas Latifi immediately behind him in P19.
The Canadian improved on his final run in Q1, setting a time of 1:31.325, but it was not enough to lift him above his teammate, who recorded a 1:31.266.
"Today was frustrating and a little confusing," claimed Alex, who had found himself in the top 10 earlier in the afternoon during FP3, adding: "We were missing something in qualifying and struggled to find the performance that we had in the earlier practice sessions.
"As we've seen already this season, the tyres are incredibly sensitive and, combined with the heat here, it's making finding grip very tricky.
"We'll have a look through the data tonight and come back stronger tomorrow for the race."
Nicky has been progressing all weekend and is happy with the positive directions he made during Saturday, saying: "We're obviously not where we want to be as a team but I think, from where I came from in FP1, I'm pretty happy with qualifying.
"There's been quite a big gap all weekend, and I've been struggling to get the feeling that I needed, so I think we've made the right changes from FP1 onwards to get as good a feeling as we felt.
"It's still not perfect and I think there was still some time to gain but with the differences in the cars right now, and the faster parts on Alex's car, I was satisfied to end up where I ended up."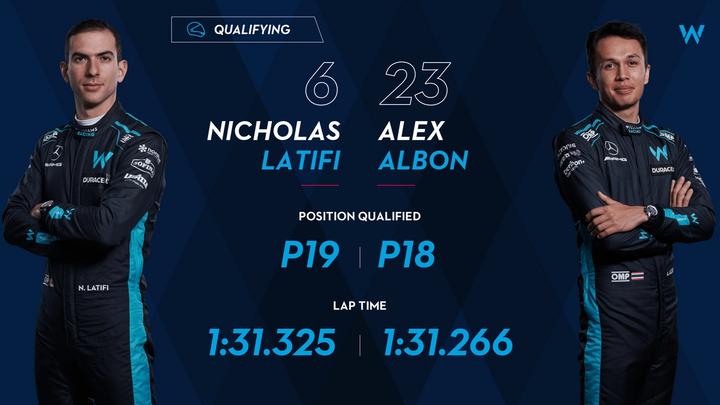 Head of Vehicle Performance, Dave Robson, pinpointed tyres as a reason why both drivers were unable to put more headway towards a Q2 spot.
"Our week has been very up and down since FP1," he said, continuing: "The behaviour of the tyres in the heat has been confusing, which has led to some big swings in pace and balance.
"On both cars we struggled to get the tyres in a good window and hold them there for a complete lap.
"Alex's best sectors were good enough to challenge the two cars ahead and if we had got everything perfect for one lap, then he could have challenged for Q2.
"Nicholas drove well today and built momentum over the two sessions and was able to push Alex very hard in Q1.
"Given that some of the better parts were only available for Alex this weekend, Nicholas' pace was impressive, and this hopefully sets him up for a strong race tomorrow."
In the W Series, two-time champion Jamie Chadwick enjoyed the perfect start to her latest title defence, converting her P2 from qualifying into P1 in the opening race of the season.
Jamie found herself in a race-long battle with Emma Kimilainen and, after a late safety car led to a last-lap shootout, came out on top to earn her seventh win in the series.