Pastor Maldonado's solitary Formula 1 win came in Williams Racing colours on this day in 2012, when the Venezuelan drove a faultless race to join the elite list of drivers that have stood atop a Formula 1 podium.
Last year, we caught up with the Venezuelan to talk about his memories of that day, so let's take a trip down memory lane to see what Pastor had to say.
We begin with whether he had any idea that an F1 victory could be possible when preparing for his 2012 race weekend.
"You know, I always had a very good feeling because of the car of that year. Through pre-season it was pretty good, pretty decent, with a very good balance," he begins.
"It was just starting at the time, the season, you know. After four races, we get there, and I wasn't expecting that kind of speed.
"But, in the previous race, which was China if I remember correctly, we were performing quite well – we'd been quite solid in the points and had a very good feeling with the car.
"But, of course, we were still far away from fighting for the victory. So, we got there to fight again for the points, having a very good feeling with the car, with the team.
"Everyone was motivated because we had a better car than the previous year, the previous season," Pastor recalled.
One F1 fixture in Barcelona is the widespread development upgrades up and down the grid, and 2012 was no exception. He explains that the FW34 had a substantial aerodynamic upgrade.
"Certainly, we had the new aero package that we used during the weekend, but it was a little bit late.
"We only got it on Saturday morning, and we just tried it, to put some mileage in the package, because the package – I remember it well – was very big.
"The floor, the sidepods, the front wing – everything was new and quite an important development package in the car.
"Normally in Formula 1, it's quite difficult for everything to work together immediately. For example, if you have a rear wing or a front wing, maybe the front wing is okay, but the rear wing is not okay."
Use code 'AprilBestSeller' for 10% off our Presentation Jacket
However, as we now know, that wasn't the case for Pastor in Spain back in 2012. He knew right away that the team had produced something good...
"And certainly that morning, the Saturday morning, I had an amazing feeling with the car. Much more downforce in the car. The balance was amazing.
"So that was like turning a switch on. All the passion and motivation of all the people in the team, including myself.
"And everything was working well, no failures, you know, in that hour of Free Practice before Quali. So, everything was working well, and when I saw the potential immediately to fight for pole, I just went for it."
Pastor's lap time that Saturday was good enough for the front row, and he was set to start from P2 on Sunday. However, there was a twist in the tale as polesitter Lewis Hamilton was disqualified from the session, promoting Pastor to first place.
The news came as a pleasant shock on a night of surprises – the team also held a surprise 70th birthday party for our founder Sir Frank Williams. We asked how Pastor felt that night.
"I felt very excited because of the result. Very excited, very motivated. But at the same time, they gave me the opportunity to put myself in a good place, you know, in a very good comfort zone."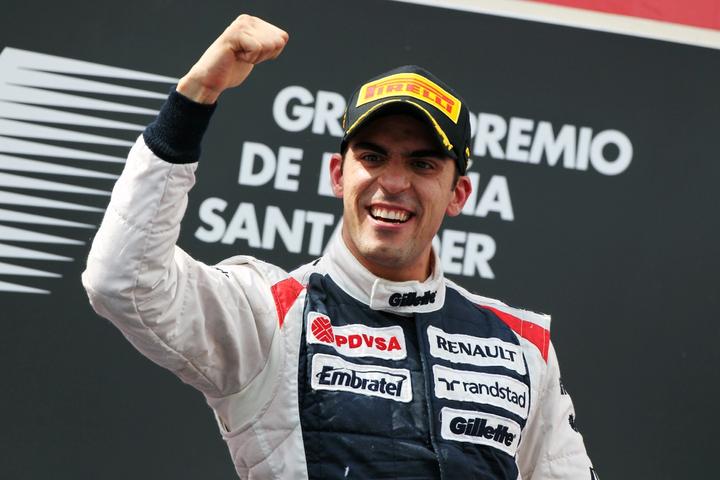 Comfort zone or not, Pastor explained that he gave himself a pep talk that night before the race:
"Okay, I have always been fighting for victories. I have won so many races at the time, and this is only one more. So do your job, and do what you enjoy. Do your best, and enjoy the race."
With his victory, Pastor became the first – and to this day, the only – Venezuelan driver to have won a Formula 1 race. It's something that he is still incredibly proud of.
"It's very important. I was supported by the government and by the entire country at the time and became a big idol.
"It was something fresh for the country, Formula 1, because normally, in our culture, baseball is something we all love, we all follow. It's our first sport and we are all passionate about it," he explained.
"But Formula 1 is something very special. And for - I don't know - 30 or 40 years, we had nobody in Formula 1.
"So, to have someone in such an important team, and winning – it was something truly amazing for the country.
"The coverage they gave at the time, the support from the entire country; you know, we even said no to so many sponsors because we didn't have any extra space at the time!"
Save on our Miami Collection
By becoming a Grand Prix winner for Williams Racing, Pastor joined an impressive list of drivers including Nigel Mansell, Alain Prost, Damon Hill, and Juan Pablo Montoya.
We asked him how it felt to have joined that long line of prestigious names.
"It feels like I'm getting old!" he said, chuckling into the microphone.
"But, no, just joking – for sure, it's very important."
"Honestly, I would like to see my team – because they became my team forever – coming back to where we were.
"And, you know, it's something special because I didn't live only my moment or my dream to become a Formula 1 winner at that time.
"Before I got into Formula 1 when I was a child, I was a crazy Williams fan," Pastor recalls.
"And to become a racing driver – a Formula 1 racing driver – in a Williams, for me, means something that is difficult to explain with words.
"Something that is really, really special."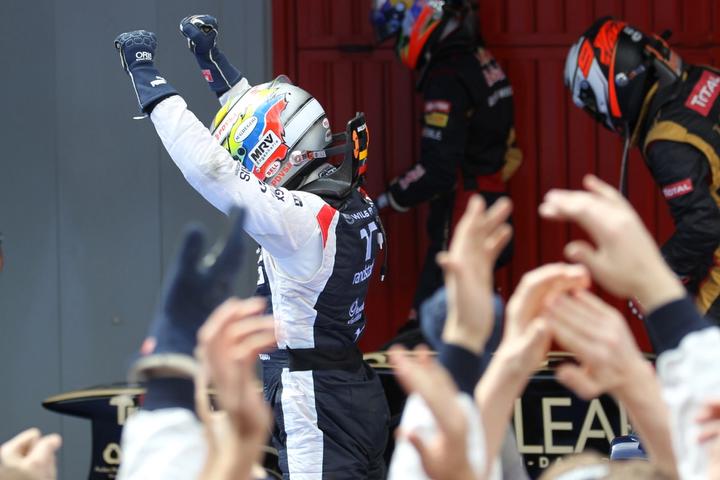 Even better for the team was the full Williams Racing family being able to attend the race with the Grand Prix taking place on European soil, something that made the day extra special for our Venezuelan driver.
"Frank was there. Ginny was there. All the Williams family.
"So for the history of Formula 1 – and it's not because I won the race – this victory, I think, is in the memory of the fans of Formula 1 just because it was very, very special. For all of us.
"For me, I feel honoured by the team. And Frank, who gave me the opportunity and the time to race for him.
"And to give him his last victory in Formula 1 – for me, is something very, very special."
Upgrade your Driver Card with exclusive Alex and Logan helmets
Show your support for your favourite racer with our unique Digital Driver Card helmets.