July is becoming one unforgettable month for Williams Racing's Formula 2 star Logan Sargeant, who already has two stunning Sunday wins from two race weekends.
If you thought the 2022 Austrian Grand Prix was entertaining, there were 40 thrilling laps in F2 just hours earlier with tyre gambles, overtakes in abundance, and plenty of penalties – and Logan somehow came out on top against all the odds.
Rewinding to that Sunday morning, heavy rain had fallen on the Red Bull Ring, which saw the 29-car Formula 3 field kicking up plumes of standing water in their Feature Race just before Formula 2.
Matt Ogle, Logan's Race Engineer at the Carlin F2 team, is responsible for the American's race strategy and car setup and kept an eye on that race for pointers.
"We watched the F3 race live in the truck and were taking notes about what lines some of the quick drivers were using – having a look at kerb usage and that sort of stuff," explained Matt.
"Also, we had a full wet race in 2020 with Yuki [Tsunoda] and Jehan [Daruvala]. Yuki, in particular, was really fast, so we had all of his data.
"We just looked at all the info we had, which was quite a lot, and made sure we were ready for the wet."
WATCH: Logan Sargeant's charge up the F2 standings
Tyre choice proved a critical factor in the F2 race, with those electing to run on full slicks benefitting massively after a few laps with a dry line rapidly emerging.
Before lights out, however, it wasn't an easy decision to make, as Matt recalls: "I was looking around the top six or seven cars, and that's how it looked like it would stay at the front."
"My priority was to give Logan the same as what everyone at the front had because I knew he could fight them pound-for-pound.
The frontrunners did opt for the same wet Pirellis as Logan, and the American certainly fought as hard as Matt expected. Logan made an audacious overtake on Jack Doohan at Turn 9 on the opening lap and soon began sizing up Ayumu Iwasa, too.
"I knew he could fight them pound-for-pound."
Any further progress had to wait as a Safety Car slowed down the race on Lap 2, which did help Logan keep the dry tyre runners at bay for a while longer.
By Lap 6, however, the dry tyre unquestionably became the right rubber to race on. Those at the front plummeted down the order over two frantic laps, and Logan had slipped from P4 to P15 in just over a dozen corners.
The changeover from wet to dry tyres was almost instant, and Matt called Logan in to minimise the time loss.
With others suffering from slow pit stops, Carlin's superb tyre change jumped two rivals in the pit lane to kickstart Logan's road to recovery.
The team had played their role. The rest was now up to Logan, who was fired up after dropping through the field.
"I'd be lying if I said I wasn't extremely angry," Logan said after the race.
"Obviously, it's not a nice feeling when everyone is driving past you, and you're dropping to the back of the grid.
"Sometimes an angry driver can be a good driver. I didn't worry too much about tyre degradation or anything. My focus was to go forward and overtake as many cars as possible."
After receiving his dry tyres, Logan wasted no time overtaking all the drivers who joined him in starting on the wet compound. Once he had dispatched the polesitter Frederik Vesti, the race was on to re-pass all those whose dry tyres gave them an early advantage.
With Logan having pitted early, Matt could see the pendulum swinging back in his driver's favour: "I think with the track conditions being cooler because of the rain, the track was a little bit green.
"Because we'd spent longer on the warm tyres, the drivers who were coming out of the pits, we were pretty much just driving around them until their tyres got up to temperature."
With tyre blankets banned in Formula 2, the extra heat from Logan's tyres gave him more grip than those pitting later, and he began to turn the screw.
With overtakes all over the 2.7-mile circuit, Logan made pass after pass to reach fourth place, including one on his teammate Liam Lawson in the sister Carlin.
Even though he was the overtaking maestro, Logan didn't quite realise how well he had done: "Obviously, I was pumped. About midway through the race, I asked where we were, and they said P4. I was pretty shocked.
"To gain that amount of positions was pretty insane to me, but that's just a testament to how quick we were."
His P4 became P3 when he crossed the line, thanks to a 5-second time penalty for the second-placed driver meaning our Academy driver could enjoy the post-race podium celebrations.
"To gain that amount of positions was pretty insane to me."
Logan's podium celebrations (he was P3 at the time)
In the hours following the chequered flag, however, the stewards penalised each of his fellow rostrum visitors for technical infringements meaning Logan had won the race – his second in two Sundays.
The American was quick to point to the role his team played in the win: "Big thank you to the Carlin crew for giving me a great car and doing a great job the whole weekend.
"We started off the weekend with a really good qualifying and put ourselves in a great position to fight for good points. We did that on Sunday when we crawled our way back up the order.
"It was a hard one to get, but I'm glad we got it and I'm hoping we keep this momentum going into Paul Ricard."
Sven Smeets, Williams Racing's Sporting Director, is delighted with the direction Logan's racing is taking the Academy: "Another positive week from Logan carrying on the momentum from Silverstone.
"Logan had a fantastic race and managed to fire himself through the field after pitting for the Slick tyre from the Wets. He settled for P4, but a lot happened in the final three laps.
"In the end, Logan came away from Spielberg with the win and that has put him second in the Championship.
"We're looking forward to supporting Logan in France and hope to see this level of consistency continue."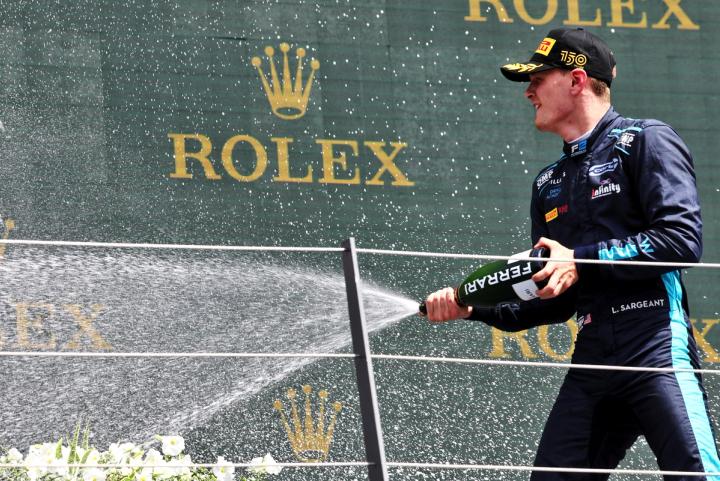 Logan celebrates his fourth podium of the season in Austria
When thinking about how far his driver can go in upcoming races, Matt looks back at the previous two rounds: "Now we're in the tracks that he knows; he's on it from the first lap in Practice.
"That makes a difference to where you qualify – and he's had two really good Qualifying sessions.
"When he's in the car, he is quite aggressive, and he is straight to the point on the radio.
"He says what he needs to say; he gets it out. And when he wants to get past someone, he gets the job done.
"I said to him on the radio that he earned his money that day. He made the difference. He was really on a mission in that race."
With the win in Austria promoting Logan to P2 in the championship standings and the two rounds before the summer break coming at circuits he knows, we can't wait to see how far our Academy star will go.