For the first time in almost six years, we are celebrating a points finish at our home race after Alex Albon fought brilliantly to secure a P8 finish.
Our No23 crossed the chequered flag ahead of both Ferraris, who themselves finished seconds in front of Logan Sargeant who locked in his best Formula 1 result to date in P11.
Both of our drivers started the race on new medium tyres and made it around the opening lap cleanly, although both dropped positions from their P8 and P14 grid spots.
It wasn't too long before Sarge was on the charge, sending it up the inside of Nico Hülkenberg at Stowe before setting his sights on Yuki Tsunoda.
Our No2 gained another position when Esteban Ocon was forced to retire before eventually making the move on the AlphaTauri of Tsunoda on the 14th tour of Silverstone, using DRS to glide by into Brooklands.
Sergio Perez, making his way through the field after a Q1 elimination on Saturday, passed Alex on Lap 17 as it became clear that our race was becoming a one-stop.
As runners ahead of us started to pit, our duo filtered up the order to P7 and P12 before Logan became our first driver to stop on Lap 29 – he had fresh softs bolted to his FW45.
Just as Alex was making his way into the pits on Lap 32, a Virtual Safety Car was deployed owing to Kevin Magnussen's smoking Haas on the Wellington Straight.
Alex was quickly by our crew and headed back out there with used soft tyres fitted, returning to the track in P9.
Celebrate with promo code CELEBRATE800 for 15% off sitewide
The VSC was upgraded to a full Safety Car soon after as it became clear that a recovery vehicle would be needed, meaning we found ourselves in P9 and P13 with 14 laps to go when we resumed.
Our duo both help their positions on the restart and immediately went in pursuit - Logan was hunting Lance Stroll whilst Alex was reeling in Perez and Carlos Sainz.
At the end of Lap 43, the Mexican and Spaniard engaged in a battle and Albono was ready to pounce.
Perez passed Sainz at the final turn and this allowed Alex to pull alongside the Ferrari on the pit straight before producing the overtake of the afternoon, swooping up the inside at the high-speed first turn.
Next in Alex's sights was Fernando Alonso, but with a low battery, he was looking to attack where possible but also defend from Charles Leclerc behind.
Meanwhile, Logan was all over the gearbox of Stroll in the dying stages, and with the Canadian being handed a five-second time penalty for an incident with Pierre Gasly that had forced a second Alpine retirement, our man was a net P11.
In a tense final lap, Leclerc pulled alongside our No23 on the Wellington Straight but couldn't get by - not the first time this season we've seen some excellent Albono defending.
He held on to finish P8, meaning it was our first time back in the points at Silverstone since 2017 and our best home race finish since 2015 - not a bad way to mark 800 Grands Prix!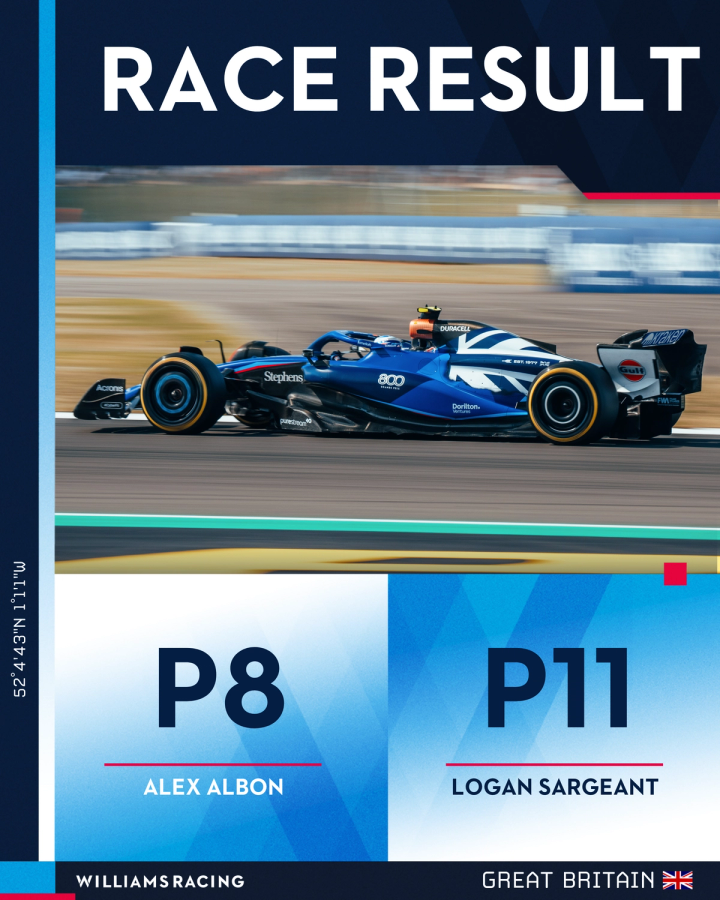 Our British Grand Prix result
"It was a great weekend," Alex shared post-race, continuing: "When you think about the speed of the car, P8 this week is the worst position from all of our sessions this weekend.
"We expected the race to be a bit more difficult with Fernando [Alonso] and Checo [Perez] behind us.
"I struggled a little at the start as I didn't have much grip. Once I was in the rhythm of the race, we were ok, we actually felt quite good with the car.
"The Safety Car came out at a perfect time. The Ferraris were on the hard compounds and I was able to get past Carlos [Sainz].
"It was a tricky race. I had better pace than Fernando which was a bit of a surprise but then Charles [Leclerc] was coming quite quickly at the end.
"It was a race of one eye forward and one eye back which became a bit of a dog fight. I wouldn't have wanted that race to last one more lap.
"It's quite clear that tracks where there's a bit lower downforce and a lot of full throttle time, that's all us. It's also important that the track remains quite cool which today the track temp was dropping at the end of the race which made us a bit more competitive.
"We're now P7 in the Constructors' Championship tied with Haas, so we're in a very good place.
"The points aren't always available so we need to make sure that in the few races where we can score points, we capitalise on them."
The Williams Racing Alex Albon Collection
Logan came home in P11 as he continues to make great strides in F1, and he is very happy as this latest double header concludes.
"I'm pleased with the last two weekends," Sarge commented. "The progression has been good, and I feel like I'm getting more comfortable.
"I'm starting to drive the car the way it actually needs to be driven. It's all coming to me.
"The team has been great in supporting me, pushing me and trying to help me out as much as they can.
"We had a great car today, it was the best race I've felt all season in terms of car performance as well as pace.
"A bit unlucky when the Safety Car came out one lap after I pitted, that hurt a little bit.
"It's still a good day and to have Alex score points for the team is amazing and shows we have a car that can fight."
As Alex mentioned, the result means that we climb up to seventh place in the Constructors' Championship standings.
Our Head of Vehicle Performance Dave Robson wrapped-up our Silverstone reaction by saying: "The car worked well today and both drivers were excellent.
"Alex showed great skill in attack and defence whilst also managing his tyres very well.
"Logan too showed good race craft and was able to build on his race in Austria to deliver another impressive performance.
"It is frustrating for him to finish 11th, but his first Formula 1 Championship point is getting ever closer.
"The start of the race was tricky with the showers passing to the west of the circuit leading to a few drops of rain and a gusty wind.
"Driving was difficult during this period and tyre degradation appeared high. However, once the weather calmed down, we were able to show good pace and measure the true tyre degradation.
"The Pirelli's held up very well such that a 1-stop race using Soft and Medium tyres was possible.
"The Safety Car further improved the competitiveness of this strategy and helped the drivers who chose to avoid the Hard tyre for their final stint.
"This allowed Alex to complete a brilliant pass on [Carlos] Sainz to take an excellent 8th place. Some characteristic defensive driving on the final lap ensured that he held the place against an attacking [Charles] Leclerc.
"The team has worked very hard to deliver an effective upgrade package to the car. The first parts of that package arrived in Canada and the new front wing debuted this weekend on Alex's car.
"The points that we have scored over recent events is testament to that effort and expertise."
The prediction window for this Grand Prix has now closed.