The team are celebrating Alex Albon's best result for Williams Racing so far as he made a one-stop strategy work to come home in P7.
Both of our drivers had a clean start, with Logan Sargeant hassling Nyck De Vries ahead of him but sadly for our American racer, his race lasted all of eight laps.
The team noticed an oil leak within his FW45 and asked our No2 to pull over immediately. His stricken car brought out a Virtual Safety Car.
We were back racing just one lap later, now with a single car in the fight. Alex was running in P8 when George Russell collided with the wall at T9, subsequently bringing out a full Safety Car.
We called Albono into the pits to switch his medium compounds for a set of hards with 58 laps left to go.
The SC pulled in at the start of lap 18 with Alex now sat in P12, tucked right behind the McLaren of Oscar Piastri.
Our Thai racer kept up the pressure, forcing the Australian into a mistake at the final chicane and gaining a position.
However, just one lap later, Alex would be the one heading across the run-off whilst battling Kevin Magnussen and it was back to P12 for our man.
Alex wasn't willing to wait behind the Danish driver too much longer, making his move stick and setting off in pursuit of the McLarens.
The drivers who didn't box under the Safety Car pulled in on Lap 37, elevating Alex up to P8 as he reeled in the Australian who himself bailed into the pits on the following lap.
On Lap 40, our No23 was running in P7 as we committed to the one-stop strategy. On ageing tyres, he had his good friend George Russell for company, but the Mercedes just couldn't find a way through.
Russell retired with 15 laps to go, meaning Esteban Ocon became the second carriage of the Albon Express Train.
The Alpine was right on our gearbox throughout the last 15 laps, but there was nothing he could do.
An imperious drive from Alex kept him at bay lap after lap until the chequered flag was finally in sight, letting out a joyous "YES" as he locked in his best result since joining the team.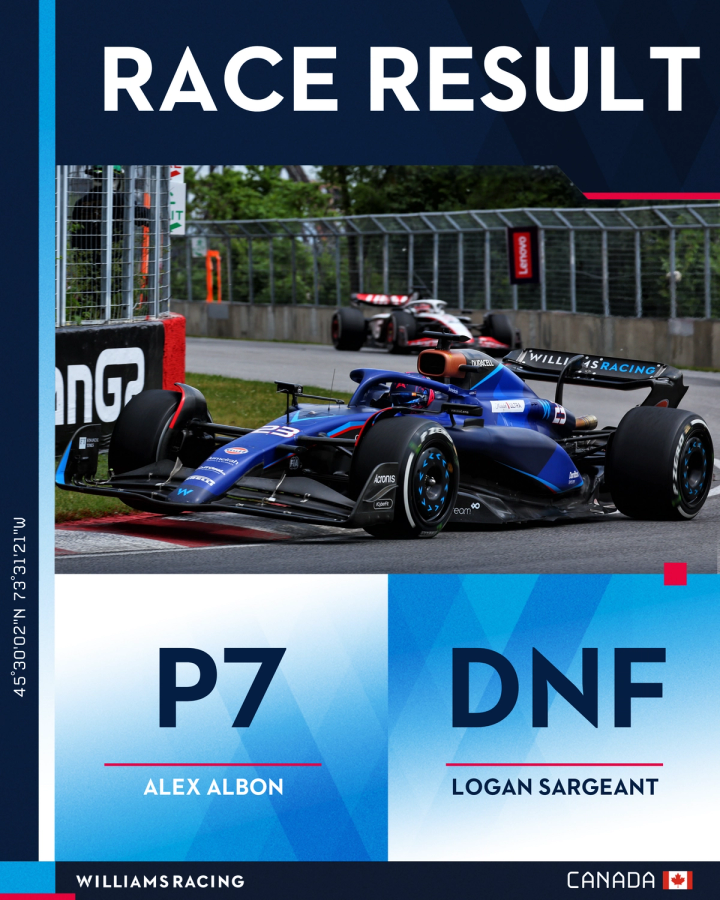 How it finished for Williams Racing in Canada
"It's been a very strong weekend and I have to thank the team first and foremost," Alex shared post-race.
"We had the upgrade on the car, and I think it shows that we made a good step and the circuit suited us.
"The work that has gone on at the factory to get this upgrade ready has been monumental and everyone has been working so hard.
"We also fitted a new PU, so we threw everything at this weekend. We had a great qualifying yesterday and now the race today was great.
"To get these points on the board and move up to ninth in the Championship is a nice place to be and it's great to be able to say thank you to the team and have this reward for everything that everyone has done."
Final Round
Voting has ended
For Logan, it was a shorter race than we all would have wanted, but there was nothing he could do about his afternoon being cut short.
"We had a really good start to the race with a car we could fight with," Sarge commented.
"I had the AlphaTauri ahead under quite a bit of pressure and I felt quick. Unfortunately, I got the message to stop the car as soon as possible due to an issue which ended my race.
"I've learned a lot this weekend from using the full wet tyres, driving in the wet, and driving on the inters on a drying track.
"Honestly in the dry, I feel like we've been pretty quick. It didn't work out today, but we can be positive going to Austria."
Make it yours
Customise your very-own Driver Card! Pick your own helmet and number to display your Williams Racing fandom to the world!
Our Head of Vehicle Performance concludes our Canadian GP round-up by sharing what he saw from the pit wall on a weekend that saw the team climb the standings.
"There were mixed fortunes for the two sides of our garage today," Dave Robson stated.
"We were forced to retire Logan's car after we spotted an oil leak, which was starting to affect his power unit.
"We need to inspect the car tonight and find out exactly where the leak is coming from. It was a shame for Logan as he had a good opportunity for some close racing and a good result.
"With Alex, we benefited from a well-timed safety car but were also able to put together a very strong 1-stop race.
"We have seen in the past that Alex is exceptionally good at managing a race and defending against a group of cars.
"Today, he was able to overtake on track and then couple all of his past experience with the strengths of the updated FW45 to pull off a very good result. His drive was outstanding and the help he received from the team was equally impressive.
"We suspected that the circuit in Montreal would suit the car quite well and this has been enhanced by the upgrade package, which delivered well today.
"The whole team in Grove has worked tirelessly to deliver this upgrade and they can be suitably proud of their achievement.
"We still have a lot to learn about the revised FW45 and this work will continue in Austria in a couple of weeks."
The prediction window for this Grand Prix has now closed.