Did you see Alex Albon's unique British Grand Prix helmet design on social media last night and wonder 'What on earth is this all about?'.
Well, don't worry! We're here to introduce you to the wonderful world of Albon Pets…
Firstly, if you're not sure what Albon Pets is, where have you been?! It's quite simply the most wholesome account on Instagram.
Alex, alongside his siblings Chloe, Zoe, Alicia and Luca, manages the account to showcase their 'Zoo' of animals – specifically their eight cats, one dog and one horse who all feature on the lid.
Now, when put on the spot earlier in the season, our resident Dr Doolittle did struggle to name them all, but this can be forgiven, even if Horsey hasn't forgiven him yet.
Alex and Nicky are tested on their Albon Pets knowledge in The Williams Warm-Up Ep.1
Who's Horsey, you ask? Not their actual horse – that's Tinky – but rather our Miami-merch modelling five-year-old feline friend.
If you want to get to know the rest of the group, we've put together this handy diagram showcasing who's who on Alex's helmet this weekend.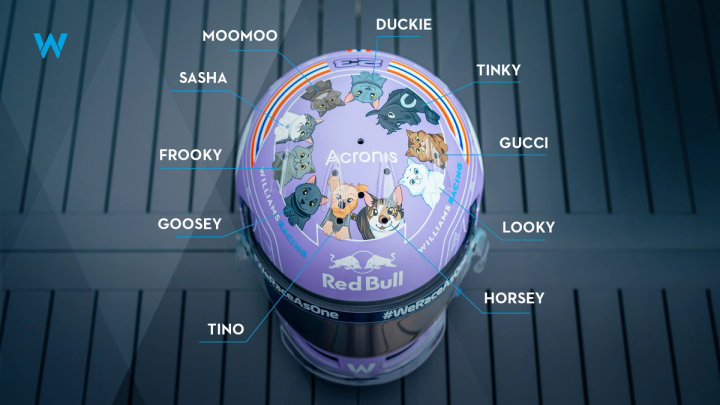 Who's who? Get to know Albon Pets...
Hopefully you're now a complete convert to the world of Albon Pets, don't forget to
give them a follow
to stay fully up to date with the clan.
We may be biased, but to us, they are the cutest pets in the paddock. Sorry, Lewis.