We're now into the second round of the Gulf x Williams Racing Fan Livery vote, with two more designs both hoping to make it through to next week's Grand Final to take on Bolder than Bold.
Four unique designs started, three remain and you can now choose which will make it one step closer to being on our FW45 in Singapore, Japan and Qatar.
Voting for Round 2 is open between the Visionary and Heritage designs until 12pm BST on 11 June.
We recently caught up with Ed Scott, Head of Creative at Williams Racing, who talked us through how each of the four designs were created, from initial ideation right through to being presented at our online ballot box.
This is a livery that, as the name suggests, celebrates the visionaries of the world - those who look forward, and those who believe innovation lives in everything we do. This attitude is a reminder to feed the dreams and ambitions of the next generation of drivers and engineers. To celebrate their can-do attitude and inspiring spirit.
Here's what Ed shared when we spoke about this eye-catching design.
"Visionary was forward thinking – very futuristic," Ed explained. "Almost Tron-inspired.
"The way we tackled this was by creating modern-looking shapes and angles, mixing the different tones of blue from the Gulf palette to create a design that's very out there – one that wouldn't look out of place in a futuristic film.
"The sharp, aggressive angles help create the futuristic design. You'll notice the stripes on the back of the engine cover, then the lightning bolt-shaped flashes of angular colour on the side pod that really helps give it quite a unique look and feel."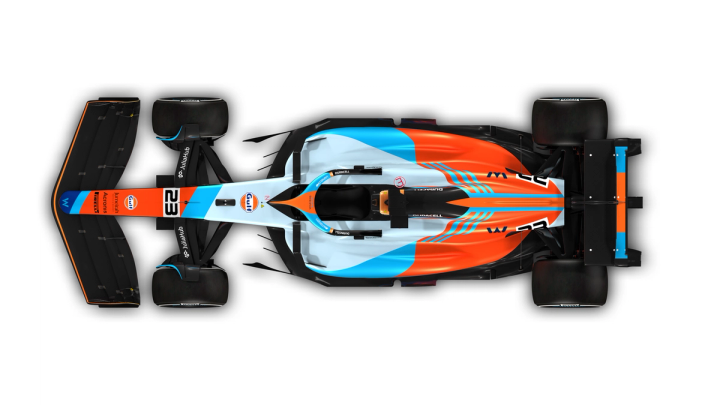 A birds-eye view of Visionary
One segment of Williams Racing that is always looking to the future is our Driver Academy, which this season is also supported by our friends at Gulf.
"Williams Racing have an extensive Driver Academy program with new talented drivers coming through and making their way up the motorsport ladder, which Gulf has become a partner of this year."
Both Williams Racing and Gulf share a vision of a bright modern future for motorsport on and off the track, hence the thinking behind this third eye-catching livery.
"This livery is all about celebrating these young emerging drivers, who we look forward to supporting throughout the years."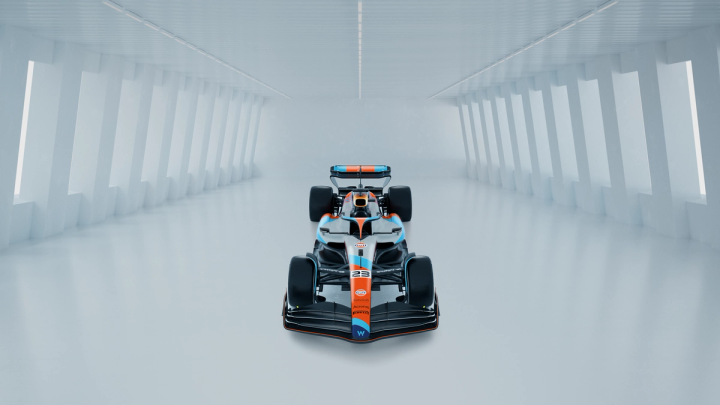 Does Visionary have your vote?
This has been a very different project for the Gulf x Williams team to work on, with the chance to create four different F1 liveries at once, which doesn't come around very often.
As Ed shared, he wanted this to be an enjoyable experience for everyone involved, not just those internally, but for the fans across the world to get involved with and discuss with their peers.
"Our goal was for the team to have fun with it, not only on the Williams Racing side of things but also on the Gulf side - we wanted everyone to get excited.
"Similarly, it was our aim for every livery to strike a chord with everyone who looked at it."
"We wanted each to have a wow factor, so that when you saw one of them for the first time, each makes you step back and go 'wow! OK, that's cool!"
Gulf continue to reiterate the importance of the fans within this collaborative process and in choosing the next Gulf livery.
"This competition is all about the fans and giving them the control over these Williams liveries as a reward for their dedication to our brand over the years.
"Whatever livery ends up on track, we want fans to be excited about the Gulf x Williams liveries and give fans something they can really get excited about."
Visionary or Heritage? Vote now
Final Round
Voting has ended