A trip to the sensational Suzuka circuit beckons this weekend, and we at Williams Racing are looking forward to having the FW45 tackle the 3.6-mile track.
Before we get on track, though, we're also looking back at how last year's trip had us flying back from Mie Prefecture with two points in the bag.
Nicholas Latifi advanced 10 places through the field in a shortened race to score his final F1 points on a soaking-wet Sunday drive full of unpredictability.
Full focus for Nicky on a race to remember.
We must rewind to earlier in that rain-affected weekend to fully appreciate the teamwork involved in Nicky's point-scoring efforts.
Friday saw the inclement conditions cancel a planned Pirelli tyre test, but it allowed all teams to benefit from 30 extra minutes of Free Practice 2 to maximise an understanding of wet-weather running.
Nicky and Alex put in laps on both intermediate and full-wet Pirellis, with our Canadian racer enjoying his first trip to Suzuka after two years of Covid-enforced cancellations.
Fast forward to Sunday, that additional understanding of the car's performance in the rain would prove crucial for Nicky and our engineers to propel ourselves into the top 10.
The race started with thick spray hanging in the air and an incident-filled opening lap under intensifying rain that saw the red flag waving to stop the session by Lap 2.
Unfortunately, a collision for Albono that damaged his car's radiator had him out of the race, but Nicky had jumped to P15 by keeping out of trouble.
A two-hour delay allowed our engineers to assess how best to strategise Nicky's remaining laps and what setup changes they could make to maximise performance in the conditions.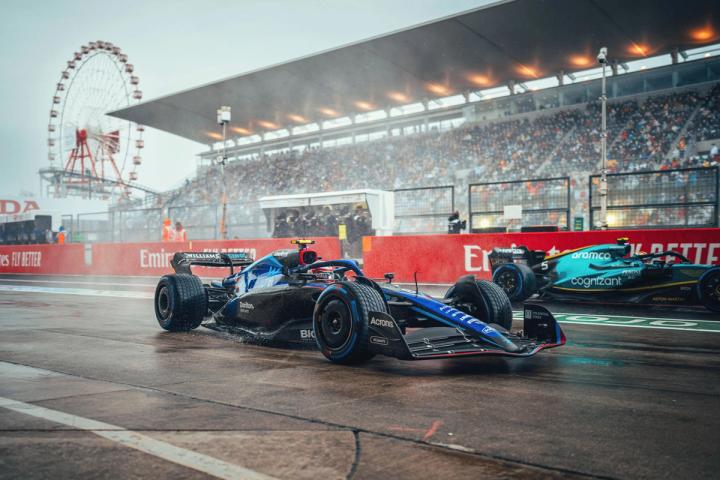 Pitting to switch off the full-wet tyres was the right call.
Just before the restart, the team made the race-changing decision to immediately pit and change tyres when the safety car pulled in on the rolling restart based on Friday's wet running.
Those extra minutes in FP2, coupled with Nicky's understanding of the track from the two laps of racing, allowed us to understand what was possible with the intermediate tyre.
Only one other car followed suit — somewhat helped by keeping quiet on the radio to maintain secrecy over the airwaves — and Nicky reached P8 a few laps later, thanks to the undercut's incredible advantage.
Our job wasn't complete, though, as the race's three-hour time limit meant there were still 30 minutes of running remaining and several out-of-position cars behind us had fresher rubber.
The official Williams Racing app
Download our app for all the latest news, behind-the-scenes videos, our Pit Wall Predictions game and much more.
Despite the pressure from behind, Nicky kept his cool and made the most of the conditions to keep a steady pace, only losing one position through the shortened race to cross the line in a richly deserved P9 position.
"I'm really happy for the team and it's a nice morale boost," summarised our No6 after the race, with his points bringing our 2022 season total to eight.
Might we see more Suzuka scoring in 2023? Keep an eye on the official Williams Racing app and williamsf1.com, where we'll cover every moment of this year's Japanese Grand Prix weekend.
Pit Wall Predictions, presented by Gulf
Don't forget to submit your answers before lights out!