Formula 1 is a sport that constantly evolves, and street tracks are very much part of its ever-changing world. The 2023 season will see seven rounds, nearly one-third of the 23 races on the calendar, take place at a street venue rather than a traditional circuit.
When does a race track become an F1 street track, though?
Well, if you're a newcomer to the sport, it's fair to wonder what an F1 street circuit is, where they are, and what characterises them as so noteworthy to have a separate definition from their dedicated circuit peers.
What is an F1 street circuit?
As the name suggests, a street circuit is a race course on the streets of its host city rather than at a race circuit specifically built for racing. Usually — but not always — a city closes some public roads, transforming them into a temporary race track.
The result is connected streets and roads, whose planners originally designed them for consumer car traffic, becoming a formidable collection of corners that F1 drivers must navigate at the fastest speeds possible.
While a traditional circuit's design is founded in combining straights and turns to provide a racing venue promoting racecraft and entertainment, street circuits adapt a city's existing road system to accommodate the pinnacle of motorsport, F1.
Why are street circuits so exciting?
An F1 driver's skill is beyond doubt given their ability to tame the unbelievably powerful machines they sit in. But race weekends at street circuits let drivers show off that talent the most.
It's on the streets where millimetre precision is always on display as drivers thread their cars between the walls and Armco barriers surrounding the inner and outer perimeters of the tracks.
Tarmac or grass run-off at the side of traditional race circuits allow any moments where a driver runs over track limits to recover with only a minor time loss. On street tracks, however, the stakes are much higher, and that same mistake punishes those with a ruined qualifying lap or a costly crash.
The circuits at Monaco and Singapore are notoriously challenging to overtake at. Any errors in qualifying can ruin a driver's weekend if they start further back than they usually would expect to. Yet they must also push as much as possible, despite the higher risks of crashing.
Furthermore, the barriers prevent visibility meaning a driver must discard all logic and hurtle around each turn even though they might not see past its apex.
Cautious racers might bring their car home, but the quickest laps come with the most risk, meaning drivers racing closest to the walls will be at the top of the timesheets.
Street tracks also feature far more painted lines for general traffic than on a dedicated circuit, plus a track surface with regular car tyres and fumes bedded into it.
When it rains, the tarmac becomes even more slippery than usual, with those painted lines especially treacherous for any racer that might inadvertently go full throttle over them.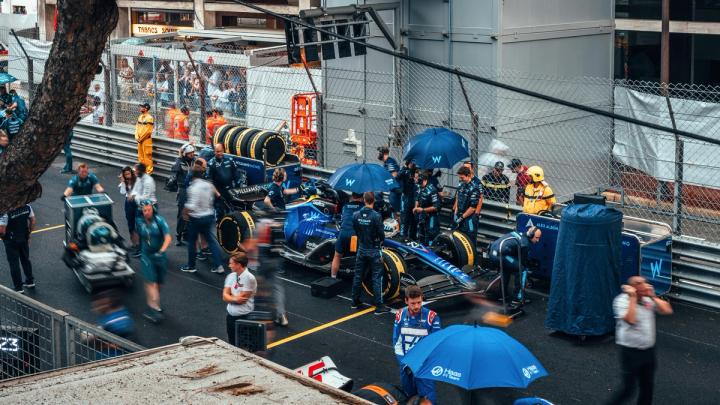 2022 saw a wet and wild Monaco Grand Prix, held at the iconic Circuit de Monaco street circuit
F1's street circuit history
Formula 1 has raced on street circuits since the inaugural season in 1950. The world-famous Monaco Grand Prix featured in F1's first World Championship year, although the race around Monte Carlo's 'Circuit de Monaco' has existed since the 1920s.
Monaco was the only street track in the 1950 F1 season, although France's Reims-Gueux and Switzerland's Circuit Bremgarten also appeared as road courses.
Despite also taking part on public roads, these road courses differ from street circuits thanks to their location being away from cities, with trees and fields typically lining much of their layout rather than buildings.
Many other street circuits came and left F1 over the years, including grands prix in Barcelona, Porto, Lisbon, Long Beach, Las Vegas, Adelaide, and more.
As motorsport safety improved in the 2000s, these city venues began to appear more frequently, with 2023 somewhat representing a paradigm shift as nearly a third of all races will be held at street tracks.
Although Monaco mostly remains unchanged from its 1950 layout, advances in circuit design and the FIA's constant push for better safety standards mean contemporary street circuits ensure more run-off area at any sharp braking zones to minimise the danger for F1's 20 drivers.
Join the team
Sign up to unlock your very own Driver Card and be one of the first to know about all the latest Williams Racing news and announcements.
The rise of street circuits in F1
As Formula 1 increasingly looks to put fans at the heart of a race weekend, street circuits are becoming a more frequent fixture on the calendar.
The two often go hand in hand, as a city location is far more accessible for most attendees rather than the dedicated venues that tend to be far from a country's metropolitan areas.
An in-city location allows F1 to use the host city's infrastructure to bring the drivers, cars, and teams closer to not only attending fans but residents who might otherwise never encounter the sport. The resounding success of the
Williams Racing pop-up store
last year in Singapore and Miami exemplifies this.
The USA had a rough blueprint for the current trend of street circuits with a long history of American cities hosting F1 in the 1970s and 1980s. Phoenix, Long Beach, Detroit, Dallas, and Las Vegas each held street races over the years, although none established a foothold in the calendar.
Safety concerns, financial woes, poor visibility, high temperatures, low attendance, and the track literally breaking apart are reasons why F1's time in the various US cities didn't last.
Yet the core concept of bringing the pinnacle of motorsport into a city rather than being way out in a field was a contributing factor that initially led to those visits.
In sharp contrast to those failed attempts, the Singapore Grand Prix has become the standout weekend for the country and demonstrates how much of an event F1 can be for a host city.
A-list musicians perform daily, hotels get fully booked up with guests, and the combination of these with F1 creates an inescapable party atmosphere for anyone there, whether or not they have tickets to the race.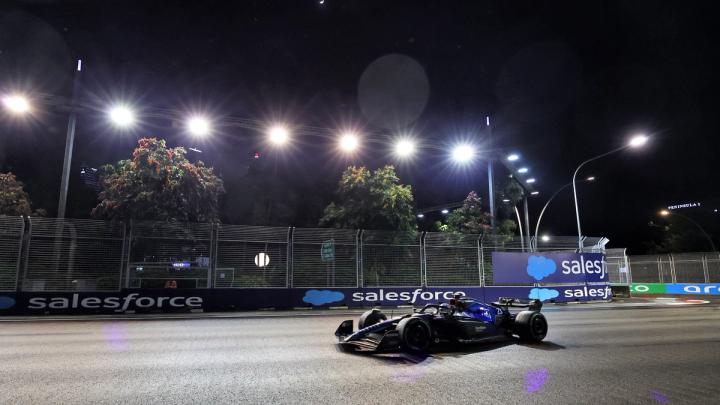 The Singapore Grand Prix is one of the most physically demanding circuits on the F1 calendar
F1's 2023 street circuits
In 2023, seven grands prix will take place at a street track, with Saudi Arabia's high-speed Jeddah Corniche Circuit being the first to kick things off. The Saudi event represents the start of a four-race streak of street venues, as Australia's Melbourne, Azerbaijan's Baku, and the USA's Miami will each host F1 over April and May.
Monaco also returns in May for the 80th running of the Monaco Grand Prix. Many consider Monte Carlo's street circuit the ultimate challenge for an F1 driver, especially with today's cars taking on a street circuit designed in 1929.
The European summer season punctuates the calendar with a plethora of traditional circuits before September's Singapore Grand Prix sees racing return to Marina Bay. The penultimate 2023 round, and season's final street circuit, will be F1's maiden race at the Las Vegas Strip Circuit.
Although F1 visited Las Vegas in the past for the Caesars Palace Grand Prix, 2023 is set to be a bombastic event, unlike our previous visits in the 1980s.
The 6km street circuit features a 1.9km run down the famed Las Vegas Strip before snaking around a 17-corner layout on the city's streets.
The race, which will have F1's 20 cars speed past some of Las Vegas's most iconic casinos, will run under the night sky, letting the city's unique neon skyline shine. Its 10pm Saturday scheduling promises to be one of the most memorable nights in F1 history.
Wear the W