Williams Racing were on the cusp of points in the 2023 Austrian Grand Prix as Alex Albon scored a P11 finish, with Logan Sargeant running close behind in P13.
The FW45 showed its worth in the F1 midfield, fighting among the top 10 for much of the race as Alex proved his Q3 effort on Friday was representative of our car's pace.
Albono kept ahold of his P10 starting position in the opening laps and pitted during an early Virtual Safety Car slowdown to continue battling for a points-paying position.
A five-second penalty for repeat track limits violations added time to his second stop, but the delay wouldn't have changed his final classification, with P11 being the best result possible.
For Logan, it was his second-best finish of the season after his maiden-race P12 and the American rookie's superior speed to those around him advanced him five places through the order.
Sarge also received a five-second time penalty for going off the track multiple times, but this didn't affect his final position as car No2 opened the gap to the cars behind to retain a solid P13 finish.
Earlier, Zak O'Sullivan took his third 2023 F3 race victory and first Feature Race triumph, with fellow Williams Academy driver Franco Colapinto narrowly missing out on a podium after last-lap contact.
"I'm not disappointed about the race today," Alex establishes, before continuing on to say, "I think it's a normal thing with the top 4 teams and top 8 cars in those positions, so there's only two points up for grabs.
"Lando had a great race, as did Pierre, so that was the remaining points and we were the next best.
"It was a strong weekend for us, our worst result was 13th where we were running P7 for most of it. When you think of it like that, it's frustrating but it shows we're making steps forward."
Our Thai driver also praised the team's strategy and his younger teammate: "Obviously, this track suited us and we were expecting a better result, which is a bit disappointing but still a great race and a good execution.
"I think we did a good job and with Logan having a great race, it demonstrates our steps forward."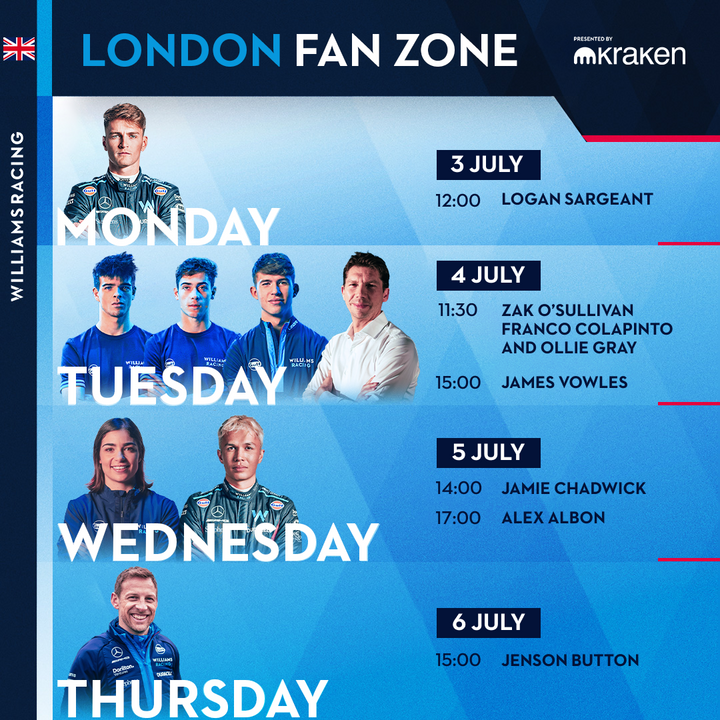 Meet the Williams Racing team this week in London as we prepare for the British GP
The positive thoughts continued with Logan, who enjoyed his first Austrian Grand Prix, saying, "It's been tough lately, so it's great to see the progress we made today.
"When I don't qualify well, I leave a lot of work to do on Sunday, so to have a good one under my belt is a nice step forward. Today's race shows what we can do, and I feel like we're finally moving forward into the right direction."
Sarge's two F2 wins in 2022 came at Spielberg and Silverstone, which gives Logan the belief that he can build on his momentum from today:
"We have a string of European races which I'm familiar with, so hopefully this is the start of something good for us.
"We're heading to my favourite track next weekend but it's also a difficult one with lots of high-speed corners, which is something I need to focus on.
"Thanks again to the team for all the hard work in bringing the upgrades to my car and we'll now look forward to the next race."
Williams Racing's Head of Vehicle Performance Dave Robson praised each of the drivers for their Sunday efforts by saying, "Both drivers showed good pace today and both finished in strong positions.
"Unfortunately, we didn't quite have the pace to get to the top 10; the other teams were quicker today but we were agonisingly close.
"On the positive side, the car handled well, the tyres were well managed, and Logan had a very strong race."
Like Logan, Dave is already looking ahead and is also feeling positive about our home race.
"Next weekend in Silverstone, we will look to push the pace a bit harder again and score some points.
"Although this weekend was a sprint event held in mixed weather conditions, we have learned a lot about the car and there are definitely some positives to take into the British Grand Prix."
Find out your results
See how you fared against other fans in the latest round of Pit Wall Predictions, presented by Gulf.