A dramatic Singapore Grand Prix ended in disappointment after a potential top-10 finish fell away following a late collision.
Alex Albon, racing in what he classifies as his home race, ultimately came home in P11, whilst Logan Sargeant was in P14.
Our duo had a clean getaway under the lights, with Alex dropping a spot whilst Logan gained a couple on the opening tour.
Running in P15 and P16 respectively, the pair settled into their opening stint with tyre management on their minds. They weren't alone. The pack effectively developed into one long train as the tyres went longer than many expected.
On Lap 19, Logan went deep and hit the wall at T8, losing his front wing in the process – he was able to bring the car home with his wing tucked underneath him, but the Safety Car was deployed by the time he made it back.
Like the livery? Get the look...
Alex took the opportunity to stop under the Safety Car, and when we returned to racing conditions, Albono was in P16 and Sarge in P18 some 41 seconds off of the pack.
Our No23 soon made a move on Valtteri Bottas but would get stuck in P15 as he settled into the second stint.
Logan was making good progress as one of the fastest cars on the track in clean air before Alex climbed another spot when he passed the slow-moving Kevin Magnussen.
Our Thai racer climbed another two spots when Max Verstappen and Sergio Perez made their stops, with Logan also climbing.
On Lap 44, a Virtual Safety Car was deployed to recover Esteban Ocon's stranded Alpine at T2.
Shop our Singapore Collection
The team decided to box both drivers, allowing them to charge on fresh rubber from P12 and P17 at the green flag.
It was clear that Alex was now in the fight for points, an unlikely scenario heading into the weekend.
Zhou Guanyu and Nico Hülkenberg were dispatched in successive laps by Alex who found himself in P10.
Logan also made gains, passing Fernando Alonso and Bottas – our American racer was now P15.
Alex quickly set about hassling Liam Lawson who was putting up a stern defence. With four laps to go, Sergio Perez attempted an ambitious move on our racer at T13, causing a collision.
Albono fell from battling with P9 down to P13. Determined to fight back, Alex would pass Hülkenberg before gaining another spot after George Russell hit the wall in the battle for the lead.
He'd cross the line in P11, with Logan coming home in P14 – a great strategy call from the team that very nearly paid off.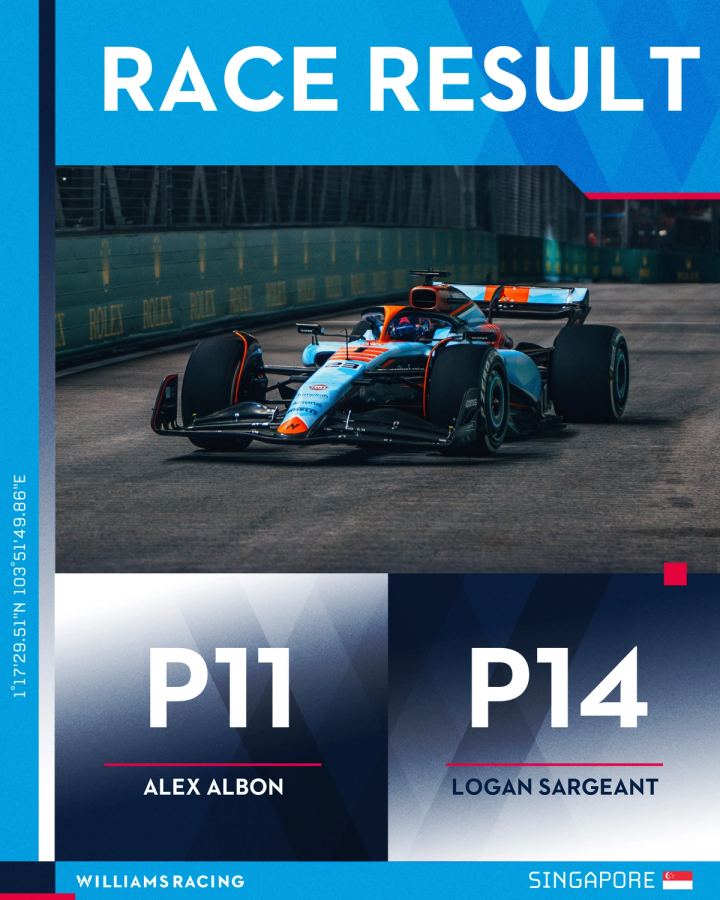 Plenty of positives to take from Marina Bay
"It should have been P8 today," Alex explained after the race, adding: "We were running in a good position and had a great strategy.
"We did expect a safety car to come in around that period and we saved the new Medium set of tyres for that situation, which paid dividends in the race.
"We had a really good evening, we were coming up through the pack and were in P9 and getting close to Liam [Lawson].
"We most likely needed a couple more laps to get past him but then I had contact with Checo [Pérez] after he went for, in my opinion, a very optimistic manoeuvre and that was me out of the points."
Logan spoke of the positives after a strong fightback from his early error, sharing: "One mistake was very costly today.
"I feel like the car was in a good place. I'm proud of those last two stints. I never gave up and did everything in my power to close back in and make something happen, but I could've used one more Safety Car.
"It wasn't a bad race in terms of pace and throughout the whole weekend. I need to cut out those small mistakes as it's such small margins.
I felt good on that first stint. I could feel the tyres starting to go away and knew we were getting close to boxing, so it's a shame I made that mistake one or two laps too early and that could've changed our race.
"We can still take the positives as we've been decent this weekend considering the package we had. We'll look forward to Suzuka."
Our Head of Vehicle Performance concluded by reflecting on a strong afternoon that almost saw us head to Japan with a few extra points on our tally.
"Today was one of our best races of the season and to lose the opportunity to score good points with just a few laps to go is very disappointing for the whole team," Dave Robson shared.
"Alex drove exceptionally well in a very tactical race and when the opportunity arose to go on the offensive using our extra set of race tyres, he executed it perfectly on a track where overtaking is notoriously difficult.
"The team here in Singapore and in Grove worked brilliantly to give him the chance and he took it expertly.
"Logan was doing well and matching Alex's performance despite running the older specification front wing.
"A small front lock-up towards the end of the first stint meant that he understeered; unfortunately, at this kind of track, the walls are so close and consequently, a tiny error has big consequences.
"With a new front wing and a new set of tyres, Logan then had a very lonely 2nd stint before the VSC gave him the chance to be more aggressive.
"However, the earlier damage meant that his car simply wasn't good enough to avoid the high tyre degradation.
"Although we lost ground to some of our Championship rivals today, we can take heart from the fact that we fought very hard – and deserved more - with a car that wasn't well suited to this track.
"We now head straight to Suzuka for the Japanese Grand Prix and we can carry the momentum and learning from this weekend into one of the best events of the year."
The prediction window for this Grand Prix has now closed.