Williams Esports driver Daire McCormack won the ESL R1 Round 4 finale at Spa in commanding fashion last night, taking pole position and never looking back - leading the race from start to finish.
Read on for the full Williams Esports report.
Friday
Broadcast live on the Williams Esports Twitch channel, the four drivers, Kuba Brzeziński, Nikodem Wisniewski, Dennis Schöniger and Dáire McCormack took part in the quarter-finals of Round 4.
Looking to keep the momentum going after Niko's podium finish last time out at the Nurburgring, the team were still feeling a bit hesitant with the BoP of the Mercedes at a disadvantage to the other cars on the grid.
That did not stop Kuba, Daire and Dennis all making it through to Monday's semi-finals, with Niko, who was suffering from illness, sadly bowing out in 7th place in his quarter-final.
It was Dennis who had the standout drive on Friday night. Having qualified in P7, he launched off the line perfectly and took an inside line into Turn 1, jumping two cars in the process. Not content with P5, which would have seen him comfortably through to the next round, Dennis made his way up to P3 in the race, including a classy overtake along the Kemmel Straight on Mack Bakkum.
Monday
Semi-final one contained both Kuba and Daire, with the duo qualifying in P12 and P4 respectively. Daire's race was largely uneventful, as he maintained position and held off two Furia cars in order to progress into his third final out of the first four events.
All eyes however were on Kuba, who despite qualifying last, was confident that he could make up the places to get into the top six. Having made up two places early on, it looked like he was going to produce a miracle drive, but a wild move by a fellow driver wiped him out, leaving him unable to recover and challenge for the top six.
In semi-final two, with only three tenths separating the top 11 drivers, Dennis was unlucky to qualify 11th. However, after seeing the misfortune of Kuba in the last semi-final, he was determined to make it two drivers in the final for the second week in a row and navigated an incident on lap 1 to make up a spot into P10.
A huge crash then dropped three rival cars down the order as Dennis weaved his way through, making it up into P7 and chasing the Mouz car of Moritz Lohner. Sadly, the slipstream train, improved for this last round of ESL, was too strong and Dennis had to wear out his tyres to get close to his rivals, and he remained in seventh place.
This meant that the team only had one driver in the final, but Daire was ready to create some magic.
Final
Only two cars had set a qualifying time in the 2:14:3s during the whole event and the early times set by rivals in this session looked unbeatable, until Daire took to the track.
Looking to beat Jiri Toman's time of 2:14:376, Daire set an ESL record lap of 2:14:359 to take pole position and give himself the best chance of achieving the first ever win for a Mercedes in ESL R1.
With Toman on his rear bumper right from the start, Daire was forced to be extremely defensive, particularly around the difficult corners of Les Combes and Bruxelles.
But after navigating the opening two laps, Daire found his rhythm and maintained a 0.5s lead over Toman to win Round 4 in emphatic fashion.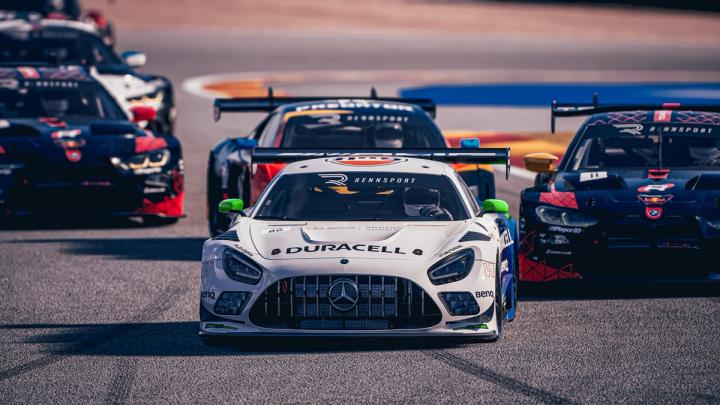 The win launches Daire up the standings and puts him in a prime position to qualify for June's Major in Munich.
Congratulations go out to the whole team as it takes a huge effort from all the drivers and support staff to be in a position to win in ESL R1.