It has been a Friday to remember for our Driver Academy after a trio of drivers each secured pole position in their respective series.
Zak O'Sullivan kick-started the streak with a stellar lap in his home Formula 3 race, taking his maiden pole and making a massive gain on his previous best qualifying position of P12.
"We were quick in Free Practice but I didn't really expect that," explained the 17-year-old Brit, adding: "It's pretty surprising to be honest!
"I'm really happy; thanks so much to the team who have been working hard since the start of the year to try to improve the package.
"What a great place to do it as well – it feels so special to do this at my home race."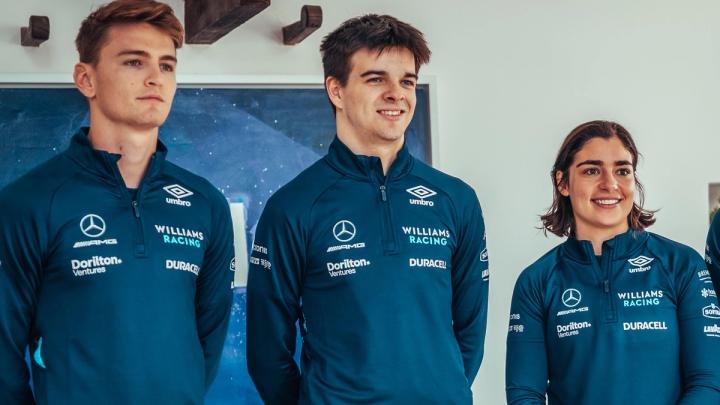 A Friday hat-trick for our Driver Academy trio
Next up was Logan Sargeant who continued to ride the crest of a wave in Formula 2, and like his younger colleague, also secured his best qualifying result of the season, a tenth clear of his closest rival.
Our American F2 rookie said: "It's been a perfect day for me here in Silverstone, with P1 in Qualifying and Free Practice.
"A massive thank you to Carlin for all their hard work as the car felt great today.
"I'm feeling really comfortable in the car and looking forward to the upcoming races over the next couple of days. Hopefully we can score some big points!"
The hat-trick was completed by Jamie Chadwick who maintained her imperious form in W Series, putting her No55 Jenner Racing machine two-tenths clear of her closest challenger.
"I kind of had to pull that lap out from somewhere," stated the two-time champion.
"It's a confidence circuit and I was always just a little bit under. Emma [Kimiläinen] put in a good lap and I really had to lay it on the line, and after I did that I found a bit of confidence in the car and it felt better.
"I'm happy with that lap and now I have a bit more confidence going into tomorrow's race. I know I've got a strong group of girls behind me so I will see what I can do.
"You can have a proper race here and I think it might be wet. What will be will be, but I'm just happy I got a bit of confidence in that session, and I can get my head down tomorrow."
Our Sporting Director Sven Smeets reflected on a memorable afternoon at Silverstone by saying: "It's been a fantastic day for Jamie, Logan and Zak and extra special for Jamie and Zak as they've got these Pole Positions at their home race.
"We're incredibly proud of how hard they are working and these results are a testament to the effort put in this year.
"We're excited to see how the weekend's races play out here at Silverstone."
Meanwhile, it was a weather-affected day for our Formula One duo, who suffered limited running in FP1 before finally setting meaningful laps in FP2, with Alex Albon running an updated aero package.
It was our Thai racer who placed higher in the second practice session, with 1:30.263 his best time from 14 laps, good enough for P14.
Nicholas Latifi had the better of the running, recording 27 laps, recording a best time of 1:31.326, placing him P20.
It's safe to say both drivers were frustrated by the typically British weather on Friday, with Alex saying: "We had a limited day with the wet FP1, so didn't get as much running as we'd like to with the new aero package.
"As FP2 goes, we do need track time and despite having pretty much none of it, we've got a car we can drive that is a step forward from the previous car, so it's positive.
"We have a bit of fine-tuning and changes to make but we have a good base so we can start from there and see how we go tomorrow."
Across the other side of the garage, Nicky held a similar point of view.
"The first day at Silverstone wasn't very eventful, with no running in FP1 because the conditions were not representative to learning anything, with other teams in the same boat," said our No6.
"It meant FP2 was more important as it might be the only dry running we get before qualifying.
"We completed our programme with very little issues. It was extremely windy which I think is making it tricky for everybody.
"We've got some good data and a direction to go overnight, so we'll see what we can do tomorrow."
Dave Robson, Head of Vehicle Performance, completed the reaction by saying: "It is a bit frustrating that the weather prevented us from doing anything useful in FP1 but at least it was dry for FP2, allowing us to start the evaluation of the new parts.
"We have a lot to get through tonight but there are some positive signs, despite the windy conditions.
"Unfortunately, Alex suffered some kerb damage to the rear of his car and whilst this was completely independent of the updates, it did prevent him from getting his high fuel running done."
Join us at our Westfield London pop-up
Meet drivers and celebrities, grab merch and win exclusive prizes at our London store.