We flew back from Melbourne with one point in our pocket and even more data in our hand luggage.
There was plenty to mull over as the sun set on our weekend on the Victorian coast – join us as we take a dive into what we at Williams Racing learned at the Australian Grand Prix.
There's a new Tyre Whisperer in town
And his name is Alex Albon.
Yes, he really did that. 57 laps on the same hard compound tyre, before switching for the softs for one final dash to the line to lock in his first point for the team and our first point of 2022.
The No23 has spoken all season of good race pace on the harder compound tyre, but on Sunday we really saw that come to fruition.
"It was a race where we took risks and really allowed our tyres to get into a nice window, and from then they just felt better and better," he explained.
Whilst running in P7, Albono maintained the gap to the McLarens ahead and comfortably kept Esteban Ocon at bay behind, lapping in the mid-1:22's prior to making his mandatory stop.
Encouraging signs as we head back to Europe for the next race.
Our strategists played a blinder
Whilst Alex might be stealing the headlines, credit must also go to our strategists – their bold call set the wheels in motion on Sunday.
As one of just six drivers on hard tyres and starting from the back, there truly was nothing to lose.
"He completed a very long stint and we ignored several opportunities to pit under safety cars," said Head of Vehicle Performance, Dave Robson, adding: "Hoping that something might happen to allow us to keep as many of the gains as possible.
"In the end, the degradation of cars behind and difficulty in overtaking gave us a small opportunity to run until the very end and pull a gap big enough for a pitstop."
Aussie fans have set the bar
There were 420,000 fans packed into Albert Park across the four days, making it the biggest weekend event in Australian sports history!
And let us tell you this: they know how to have a good time.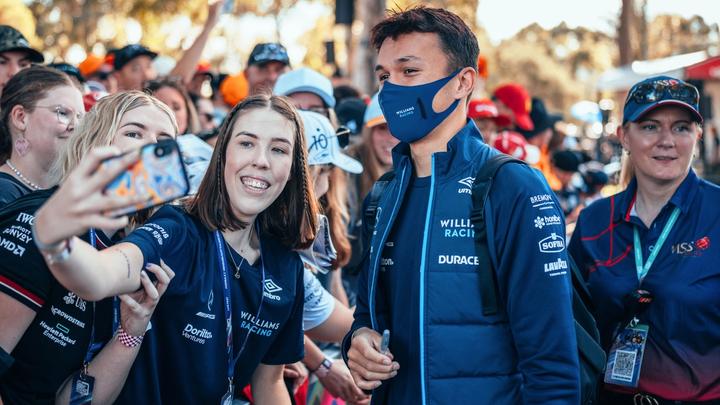 Thank you for being by our side
Every morning when Alex and Nicky would arrive, hundreds would be waiting along for the famous Melbourne Walk for selfies and autographs – with our pair more than happy to oblige.
From banners and chants in the grandstands to parties in the general admission areas, it was a weekend that will live long in the memory.
And that's before we get onto the post-race shoeys on the circuit…
The FIA are clamping down
From jewellery to underwear, the new race chiefs are leaving their mark by enforcing every rule in the race handbook.
The returning Sebastian Vettel found this out the hard way when his Friday scooter ride cost him €5,000.
Sadly for Alex, this means his planned lip piercing has had to be postponed whilst Nicky's nose ring appointment has also been scrubbed.
Shop the Williams Racing 2022 Team Kit
Proudly show your support for Williams everywhere you go and wear the kit that Nicholas Latifi and Alex Albon will be donning throughout the 2022 Formula One season.