Alex Albon will start in P12 for tomorrow's Canadian Grand Prix after he guided his FW44 into Q2 during a dramatic Qualifying session in Montreal.
Meanwhile, Nicholas Latifi qualified in P19 and will move further up the order for lights out, once grid penalties are applied.
Rain had filled the skies most of the afternoon, but eased during Q1, which allowed the track conditions to keep improving.
Our Thai racer made it through to Q2 for just the second time in 2022 – his 1:34.047 lifting him fourth-tenths clear of the elimination zone in P14.
Across the other side of the garage, our No6 did set a personal best on his final run, but it wasn't enough to lift him any higher than P19.
Focus then shifted on to our first Q2 appearance since Bahrain and the circuit had dried enough to allow Alex to start the second phase on intermediates.
After banging in a first lap good enough for P7, AA23 soon found himself bumping into a wall T6, but he managed to keep his car going and survived with only minor damage to his front wing.
The same could not be said for Sergio Perez who hit the barriers at T3 just after Alex had freed himself, causing a Red Flag.
When the session resumed, every car was running the green-walled inters whilst the track kept getting quicker and quicker.
A 1:26.858 set on his penultimate run locked in his P12 grid spot for Sunday's race – our best Qualifying result since last season's Russian Grand Prix.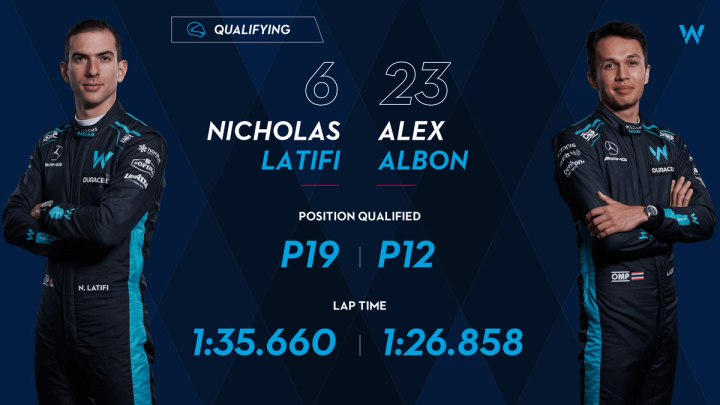 Unsurprisingly, Alex was happy with his Saturday efforts when we caught up with him post-session, saying: "We had quite good pace in the car today with our best Qualifying of the year.
"We made some changes to how we approached Qualifying and that paid off for us, so I'm happy with today and think we did a good job.
"Despite running into the barrier at Turn 6, I only damaged the front wing. Normally our race pace is better than our Qualifying, so I think we're in a better starting position to do a good job tomorrow.
"Points are obviously my goal and it's satisfying that we're near P10 so that's my focus."
It was a trickier afternoon for his teammate, who had lost some vital wet weather running in FP3 after colliding with local wildlife in FP3.
"A very tricky Qualifying session with the conditions being extremely poor," Nicky stated, continuing: "Having to use the wet tyre is a bit of a challenge for everyone as they offer little to no grip.
"Whenever you can, you'd prefer to be on the inters but there was a bit too much standing water. I was having a lot of issues under braking that we need to try and understand.
"When you don't already have the grip in the corners and then you don't have the trust that the car is going to stop makes it a very difficult session.
"It was better this morning in FP3, but we had limited running after hitting a groundhog which meant we had to make a couple of repairs.
"It'll be challenging tomorrow but we're hoping to move forward and maximise any opportunities."
Williams Racing x Canada
Celebrate the Canadian Grand Prix in style with our new limited edition range.
The inclement weather in the earlier practice session had been a benefit to the team, as our Head of Vehicle Performance, Dave Robson, explains.
"It was a difficult day with tricky conditions throughout. What we learned in FP3 was useful ahead of qualifying, which allowed us to do a good job this afternoon.
"Conditions in Q1 were tricky and finding some clear track with good visibility was tough but Alex managed it well and made it to Q2.
"The track dried very quickly in Q2 and the lap times tumbled, especially after the Red Flag.
"On his final lap, Alex lost some time at T1 but otherwise completed a good lap to take P12 on the grid.
"Nicholas found the conditions in FP3 challenging and he went into qualifying a little on the back foot. However, he did a solid job in Q1 but couldn't find enough of a gain to progress to Q2.
"Conditions look likely to be completely different tomorrow and so we will find out whether people made compromises for today or not."