Today is the day. James Vowles officially becomes the new Williams Racing Team Principal and we can't wait for him to get started.
A journey that has brought huge success, a great number of titles and plenty of crucial learnings along the way.
This is James Vowles' road to Williams Racing.
The early days
After obtaining a master's degree in Motorsport Engineering & Management in 2001, James first entered the Formula 1 world at the Brackley-based British American Racing.
The cross-Atlantic outfit would evolve into Honda during the early years of James' career as an engineer, celebrating his first win in F1 as Jenson Button took a memorable victory at the Hungaroring in 2006.
The management buyout of Honda to become Brawn GP ahead of the 2009 season is well publicised, with the campaign that followed firmly revered in F1 folklore.
It was during this transition that James was promoted to a race strategist position, playing a pivotal role in both Jenson and Brawn GP's respective championship successes.
Famously, Jenson would go on to win six of the first seven rounds on his way to the Drivers' title, with Rubens Barrichello securing two wins in the second half of the campaign to help seal the Constructors' Championship.
The Mercedes journey
The Brackley outfit would change hands once again, with Mercedes coming in to buy the team ahead of 2010.
With sights set firmly on the major rule changes coming in for 2014, Mercedes and James would have to wait patiently throughout four seasons that brought fleeting victories for both Nico Rosberg and Lewis Hamilton, as well as a final podium of Michael Schumacher's illustrious career.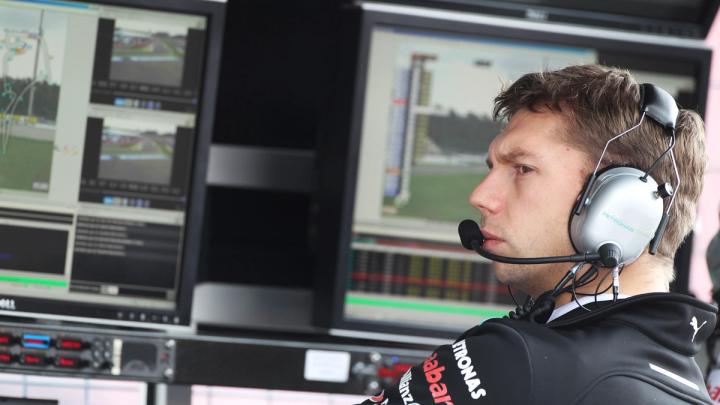 James, Mercedes' then-Chief Strategist, pictured at the 2012 German Grand Prix
The hybrid era brought the Silver Arrows unprecedented levels of success, with James playing a crucial role in key strategy decisions that ultimately led to him becoming Motorsport Strategy Director.
From 2014 to the end of the 2022 season, he played his part in 112 wins from 182 Grands Prix, making important calls for the likes of Lewis Hamilton, Nico Rosberg, Valtteri Bottas and most recently, Williams Racing alumnus George Russell.
A new chapter begins
After two decades at Brackley, James heads south from Northamptonshire to Oxfordshire having been instrumental in securing nine F1 Constructors' Championships (with Brawn GP and Mercedes Formula One Team), made up of over 120 race victories.
"Mercedes have been hugely supportive on my journey," James shared upon his departure from the team, adding: "and we part on excellent terms after over 20 years of working in Brackley.
"I am grateful for everything Toto [Wolff] and the team have provided, and it has been such a special experience to journey together through failure and success."
WATCH: James' first words as our new Team Principal
Looking forward to his future at Grove, James continued by saying:
"I cannot wait to start with Williams Racing. It's an honour to join a team with such an incredibly rich heritage.
"The team is an icon of our sport, one I greatly respect, and I am very much looking forward to the challenge."
Wear the W wherever you are