Both Williams Racing cars failed to reach the chequered flag on Sunday to conclude a tough weekend for the team in Saudi Arabia.
Alex Albon was a classified finisher in P14 but pulled over with three laps to go, whilst Nicholas Latifi hit the wall on Lap 16 to end his race early.
It was a clean and relatively quiet start to the race for our pair, Alex had engaged in a battle with Zhou Guanyu, but the Chinese driver would later be penalised for passing our No23 off track.
The Thai racer switched his medium compound tyres for hards on Lap 13, only for the race to be neutralised when his teammate hit the wall on the exit of the final corner three laps later – the Canadian was OK.
After an initial Virtual Safety Car period, a full Safety Car was deployed and remained on track until Lap 21.
Alex, now the sole remaining Williams in the Grand Prix, was right on the gearbox of Lance Stroll at the restart, but couldn't get close enough to make a move.
After Zhou served a second penalty, Alex found himself in P16, where he stayed until drama further up the pack threw the race wide open on Lap 38.
Fernando Alonso, Daniel Ricciardo, and Valtteri Bottas all developed race-ending issues and a second VSC period neutralised the race with Alex in P11.
As the VSC came to an end, Lewis Hamilton had to make his mandatory pit stop after going long on his first stint – when he did on Lap 41, Alex was running P10 and in the points.
However, with both Lewis and Kevin Magnussen behind on fresh rubber, even the bravest of defences from our driver would not have been enough.
Back down to P12, Alex soon found himself back behind Stroll who was struggling and on Lap 48, our man looked to make a move up the inside of the first corner.
The pair collided, with Alex picking up a puncture to his front right tyre, forcing him to pull to the side of the road. Post-race, the stewards handed Alex a three-place grid penalty for the Australian Grand Prix.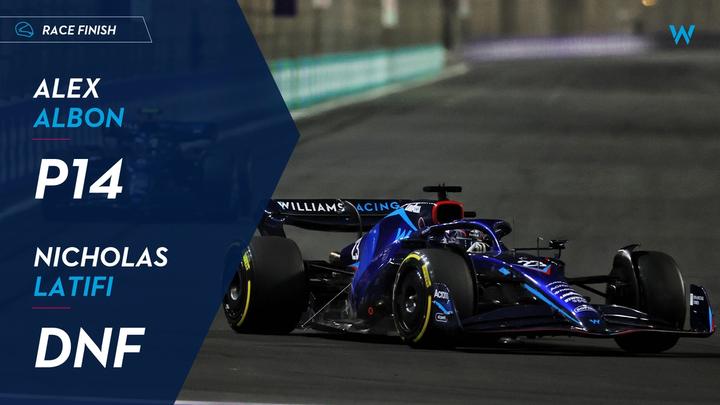 AA23 was classified, as he completed more than 90% of the race distance.
"We were trying to fight our way into the points at the end and I went for the move with Lance," Alex explained.
"He made a strong defence and unfortunately, we made contact. We had to retire due to the puncture, but the points were almost there, and we had to go for it.
"We were lacking downforce and the balance with the car can be tricky but when it's in the window it's actually a decent car.
"At the end of the race we were pretty quick, it's just about trying to make the car more consistent and predictable."
His teammate was understandably similarly upset when we caught up with him post-race.
"Unfortunately, I lost the rear going down to the final corner and that ended my race," Nicky said.
"I took the same line as I have across the weekend, so it was unexpected but obviously both disappointing and frustrating."
The team will now return to Grove ahead of the Australian Grand Prix in a couple of weeks, and for Head of Vehicle Performance Dave Robson, it's time to reflect, analyse and look forward.
"A very frustrating end to three weeks away from home for the team. We completed a one-stop race with Alex using the preferred hard tyre for most of the race.
"Alex did well to manage his tyres during a long stint and through several safety car periods.
"There was a lot of attrition at this event, which we were expecting, and Alex was nearly able to benefit.
"He was able to race with Stroll and attack him on several occasions into Turn 1, but unfortunately in racing for 11th, there was contact, resulting in a front right puncture for Alex and the end of his race.
"The mechanics did an excellent job to repair Nicholas' car overnight, but unfortunately Nicholas had a difficult race and lost the car at the final corner shortly before he was due to make his first stop."
Earlier in the day in Formula 2, Roy Nissany picked up four points after finishing P8 in the Feature Race, whilst Logan Sargeant came home in P12 after going long on his first stint.
Grab the Williams Racing Media Polo
Shop the 2022 range and proudly show your support for Williams everywhere you go.