After a mainly wet Belgian Grand Prix weekend, the track was finally dry ahead by the time the race rolled around.
With Alex Albon starting in P15 and Logan Sargeant in P18, there was always going to be a chance to push forward at the start. And push forward we did.
Albono sensationally made up six positions on the opening two tours of the mammoth Circuit de Spa-Francorchamps, sitting P9 as we began the third lap.
Logan too had made good ground at the getaway and was running P14 after Oscar Piasti's early retirement.
Our straight-line advantage was clear for all to see, with our No23 getting more moves done on Lando Norris and Carlos Sainz to place him P7.
Both of our FW45s started the race on soft tyres and Alex boxed on Lap 7 to fit the mediums with Logan doing the exact same the following lap.
Sitting in P11 and P19 respectively after the first round of stops, we set our sights on climbing back up the order once more.
However, as has been the case throughout the weekend, the rain was rolling in but thankfully it only delivered some light drizzle on this occasion.
The drop in temperature temporarily aided what was becoming our main priority, maintaining the life of our medium tyres.
With Alex in preservation mode, he was able to defend down the long straights in the opening and closing sectors but was struggling in sector two, and this is where Esteban Ocon made his move.
Further back, following a multi-lap battle, Logan got by Carlos Sainz who would retire from the race soon after.
Alex was momentarily back inside the top 10 when drivers ahead boxed before our Thai racer came in for the second time on Lap 23.
Both drivers settled into their third stints, Alex having Yuki Tsunoda in his sights and Gasly in his mirrors whilst Logan was reeling in Daniel Ricciardo.
The two Alpine cars behind Alex inverted to give Ocon on softs a clear run at Alex, passing him on Lap 31.
Two laps later, Gasly made a move stick as well, whilst a few seconds behind, Zhou Guanyu overtook Logan.
The medium tyres were now passed their best once again, and both drivers stopped for a third time, this time fitting fresh softs and setting out in pursuit.
Alex made three overtakes in the closing stages, including a bold move around the outside of Blanchimont, to come home in P14 whilst Logan gained one spot to finish P17.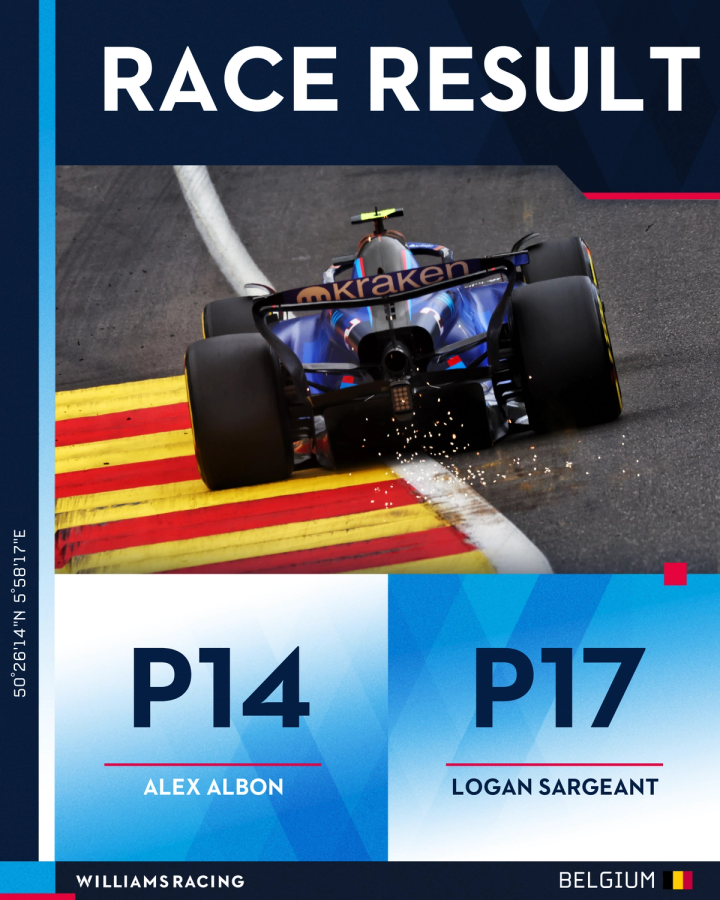 How we finished in Belgium
"I had a good start today; however, I was almost surprised I fell out of the points in the mid stint, but I was just struggling so much with degradation," Alex shared when we caught up with him post-race.
"The whole weekend was tricky, and the race was just the same. We're running low downforce, which is fun but going through sector two, degrades the tyres so much.
"The amount of deg was a bit of a wakeup call, particularly on that medium tyre. I was having to over-push the tyre to stay in front in sector two and as soon as I tried to manage the tyre, I was immediately under fire from cars behind, so it's a vicious cycle.
"I think we need to go away and work out why we struggled so much this weekend, as at the end of the day, this downforce is going to be similar to Monza and that's our next occasion to likely score points.
"We'll need to make sure we learn from this weekend, so when we come back to tracks that suit us, we don't have this problem again."
Logan was also left to reflect on what might have been this weekend but is keen to use this as an opportunity to learn from for when we return after the break.
"It was a really good first four or five laps," Sarge shared, continuing: "I think we left that first stop too late and pretty much got undercut from where we were to the back, so that was a bit disappointing.
"Once we were on the medium tyre, we really struggled with degradation and I don't think it helped where we came out, as we came straight out into a fight.
"It was a tough day for both of us, so we need to go away and look at why this happened.
"This weekend obviously hasn't panned out how we expected, so it's disappointing but we'll regroup, take this break and come back refreshed and ready for more."
Dave Robson shared similar sentiments to both of our drivers when we concluded our reaction.
"Another tricky day, which started very well with Alex executing some very good overtakes and making strong progress," our Head of Vehicle Performance commented.
"He was able to back this up during the 2nd stint and seemed to have things under control.
"The third stint was much more difficult with higher tyre degradation than expected, in part due to racing hard with the quicker Alpines.
"We opted to make a third stop, which led to some more overtaking but a frustrating result.
"Logan's pace and tyre management compared very well to Alex's but he wasn't quite able to make the same progress on track in the opening stint, which made the subsequent stints more difficult.
"There were some good aspects to today, but the race also highlighted some weaknesses of the car, which we are working on."
The prediction window for this Grand Prix has now closed.