It was a busy week for Williams Racing in Barcelona, with Formula 1, 2, 3, and W Series all racing on the same weekend for the first time this season.
It proved a prosperous time for the Williams Driver Academy as Jamie Chadwick and Logan Sargeant picked up silverware on Saturday.
Roy Nissany and Zak O'Sullivan also tackled the Circuit de Barcelona-Catalunya, although they couldn't quite match their points hauls from the last round in Imola.
Formula 2
Spain will forever be a weekend to remember for Logan after he stood on the Formula 2 podium for the first time. His sensational P5 qualifying performance meant he would be on the third row for the weekend's races and in a prime position to move up the order.
Logan's brilliant Sprint Race start meant he surged past Jake Hudges on the run into T1 and then shrugged off the then-championship leader Theo Pourchaire on the outside of Repsol to sit in P3. If not for the difficulty in overtaking at the Catalan track, our American racer might have made it to P2 after stating he was "so much faster" than Ayumu Iwasa ahead on the team radio. Nonetheless, those behind never challenged the American, showing how much pace he's already unlocked just four rounds into his rookie F2 season.
Logan narrowly missed out on two trophies this weekend with another surging start in the Feature Race to snatch P4 on the outside of Turn 1. A faultless drive meant he was within 2 seconds of another P3 when he crossed the line. His 18 points from Spain vault him to P6 in the standings – the top rookie.
Roy faced a tough time in Spain but is one of only a handful of drivers who can boast of scoring in every Formula 2 race weekend. A difficult Friday in qualifying meant he would start both of the weekend's races in P17.
The Sprint Race didn't go to plan for Roy after a spin on the opening lap when navigating the slow final sector that saw his DAMS running at the back of the pack. However, Roy was able to show his experience by dusting off the error and staying on the black stuff for the remainder of the race while others faded. His last lap overtake on Calan Williams meant he crossed the line in P15.
The strategic options in the Feature Race allowed Roy to run a contrary strategy to his rivals, meaning he was as high as P4 when he eventually pitted to reemerge in P18. However, once he rejoined with new tyres, Roy became a man on a mission, and he scythed through the backmarkers to reach 10th place and another point for his championship tally.
W Series
Jamie's birthday weekend went as perfectly as she could've hoped for, with a fifth W Series victory in a row for the now 24-year-old. Pole position, Fastest Lap, and leading every second of the race gave Jamie her first grand slam of the season.
Relative to her other wins in the all-female championship, Jamie's P1 was anything but a certainty, thanks to the British contingent behind her. Abbi Pulling and Alice Powell occupied the Jenner Racing driver's rearview mirrors from lights to flag.
Jamie knew that if she put one tyre wrong, she'd lose the lead with the pressure from the charging Pulling behind:
"I just knew if I didn't make a mistake then track position was key, and the hard work was already done. I just kept my head down, made no mistakes and fortunately, held her off."
Jamie now has a long break until Silverstone at the start of July when W Series returns for Round 4, but she can fill some of those days with the sweet birthday treats gifted to her in Spain:
"I've had a lot of cakes, which I've not been able to eat yet! To be honest, a perfect weekend was the best present I could have asked for."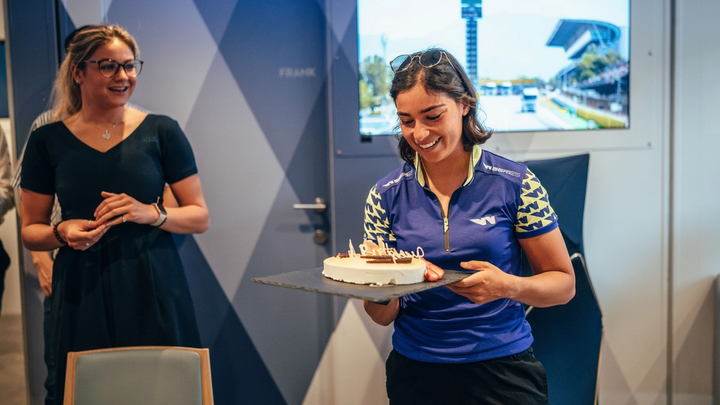 Formula 3
The Carlin team couldn't find the best setup on their Formula 3 cars in Friday's qualifying, meaning it would be a long weekend for Zak and his teammates. However, Zak again showed his comfort even in nonideal circumstances by making it the third time from three rounds where he was the highest qualifying Carlin.
Zak took an early place to be running in P18 when he completed his first Sprint Race lap but had soon dropped to P20 while fighting through the opening laps.
Despite a scary moment when he ran over the engine cover of Franco Colapinto's Van Amersfoort, his Carlin didn't suffer any damage and avoided a puncture. Zak made it back to 18th place when the chequered flag fell, thanks to staying out of trouble as others faltered or retired.
Unfortunately, Sunday wasn't any better for Zak, as he eventually retired with two laps left to run after picking up damage. Early contact with Reece Ushijima had the stewards investigate the incident before deeming it a racing incident. Zak reached P15 as the race progressed, but his late retirement had him classified in P27.
Roy and Logan will be back in action for the unique challenge of Monaco this weekend, while Zak and Jamie's next outings will be over July 1st-3rd in support of the British Grand Prix.